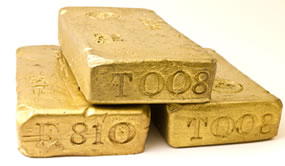 Gold futures snapped a five-session losing streak on Friday, soaring on the heels of a weak U.S. jobs report.
Gold for December delivery rebounded $22.90, or 2.1%, to settle at $1,136.60 an ounce on the Comex division of the New York Mercantile Exchange.
"The [jobs] data were as weak and as fragile as [they] can be and … thrashed all the expectations for the U.S. rate hike not only for October, but the odds for December have also gone much lower," MarketWatch quoted Naeem Aslam, chief market analyst at AvaTrade. "If the Fed sets a further dovish tone, we could see the gold price surpassing the $1,200 mark soon."
Despite Friday's gain, gold prices slipped 0.8% on the week — their first weekly decline in three weeks. The precious metal is 4% lower on the year.
Looking ahead to next week, Kitco News offers the following forecasts via their Wall Street vs. Main Street survey:
"Last-minute voting in Kitco's weekly survey Friday morning pushed the results statistical tie among retail investors. Before U.S. nonfarm payrolls data was released, there was more bearish sentiment among voters. In this week, 210 people participated in the online survey. Of those respondents, 86 people, or 41%, are bullish on gold in the short-term. At the same time, 89 people, or 42%, are bearish and 35, or 17%, are neutral on gold prices…

A clear majority of market professionals are now bullish on the yellow metal next week. Out of 36 market experts contacted, 20 responded, of which 14, or 70%, said they expect to see higher prices next week. At the same time, two analysts, or 10%, expect to see lower prices, and four people, or 20%, are neutral."
In other metals, silver for December delivery soared 75 cents, or 5.2%, to settle at $15.26 an ounce. Silver prices advanced 1% on the week, trimming their loss on the year to 2.2%.
In PGM futures on Friday and for the week:
January platinum added $4.30, or 0.5%, to $909.50 an ounce, but tumbled 4.4% from a week ago.

Palladium for December delivery jumped $18.20, or 2.7%, to $697.60 an ounce, and surged 4.5% on the week.
For the year, platinum is down 24.8% and palladium is off 12.6%.
London Precious Metals Prices
London precious metals were mixed on Friday and from a week ago. In comparing London bullion prices from Thursday PM to Friday PM:
Gold advanced $21.75, or 1.9%, to $1,140.75 an ounce.
Silver shed 12 cents, or 0.8%, to $14.43 an ounce.
Platinum gained $4, or 0.4%, to $912 an ounce.
Palladium jumped $35, or 5.3%, to $694 an ounce.
For the week, palladium gained 3.3% while other London bullion prices posted declines of 0.5% for gold, 3.7% for silver and 3.5% for platinum.
US Mint Bullion Coin Sales in October
More United States Mint silver coins sold this week but demand declined for gold coins.
U.S. Mint gold sales advanced 14,500 ounces, falling 37% from last week's 23,000 ounces. Sales splits include 12,000 ounces in American Gold Eagles compared to 20,000 ounces previously and 2,500 ounces in American Gold Buffalo coins compared to 3,000 ounces previously.
The U.S. Mint limited American Silver Eagle sales this week to 1 million coins, up from last week's allocation of 750,000 coins. Authorized distributors grabbed all by Tuesday.
American Silver Eagle sales at 36,054,500 for the year remain on record pace, up 6.4% from the same time in 2014. Last year when sales ended at an annual record totaling 44,006,000, the coins by this time reached sales of 33,901,000. The U.S. Mint also limited Silver Eagle sales last year but not during the summer months.
Silver sales this week also included the newly released Bombay Hook Five Ounce Silver Bullion Coin. Its sales ended at 45,000 coins for 225,000 ounces. The coin launched on Monday and sold out by Tuesday.
Below is a listing of United States Mint bullion products with the number of coins sold during varying periods. Products with an asterisk (*) are no longer available.
US Mint Bullion Sales (# of coins)
Friday Sales
Last Week
This Week
Sept Sales
Oct Sales
YTD Sales
$50 American Eagle 1 Oz Gold Coins
0
12,500
9,500
98,500
0
520,000
$25 American Eagle 1/2 Oz Gold Coins
0
2,000
1,000
9,000
0
63,000
$10 American Eagle 1/4 Oz Gold Coins
0
4,000
4,000
20,000
0
142,000
$5 American Eagle 1/10 Oz Gold Coins
0
55,000
10,000
175,000
0
830,000
$50 American Buffalo 1 Oz Gold Coins
0
3,000
2,500
22,000
0
170,500
$1 American Eagle 1 Oz Silver Coins
–
750,000
1,000,000
3,804,500
–
36,054,500
2015 Homestead 5 Oz Silver Coins*
–
35,000
2015 Kisatchie 5 Oz Silver Coins*
–
42,000
2015 Blue Ridge Parkway 5 Oz Silver Coins*
–
45,000
2015 Bombay Hook 5 Oz Silver Coins*
N/A
N/A
45,000
45,000
–
45,000