Finding coins, banknotes and other collectibles for sale just got a lot easier and quicker with the launch of Collectors.com.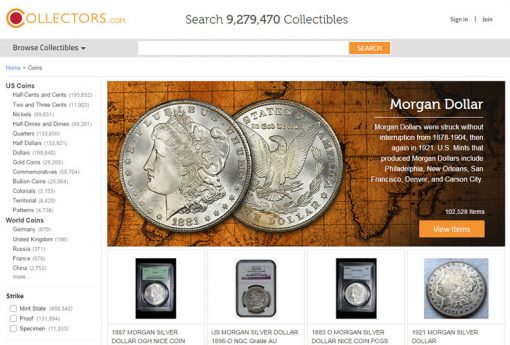 On Thursday, Aug. 27, the new website publicly debuted with aggregated listings of more than 9 million collectibles valued at over $1 billion, according to Collectors.com, a division of Collectors Universe, Inc. (NASDAQ: CLCT).
The site does not buy or sell collectibles, but simply facilitates the meeting between the buyer and seller.
"Collectors.com was gathering information about collectibles for sale from more than 542 websites involving a total of 53,684 sellers," the company said Thursday. "These sellers and sites combined for a total of 9,241,446 collectibles with an incredible aggregate value of $1,015,588,542."
Collectors.com was created, it says, to minimize the frustrations of having to individually visit and search through dozens of websites to find a coin, banknote or other collectible item for sale.
"This is a fantastic new, easy-to-use tool to find virtually every online listing for collectible items you're seeking," explained David Hall, Founder and President of Collectors Universe, Inc. "You no longer have to endure time-consuming and scattered hunts on multiple websites."
The new site has listings for rare coins, banknotes, trading cards, autographs and stamps.
"For the serious collector, Collectors.com is a powerful search tool which is actively monitoring the Internet," Don Willis, President of the Professional Coin Grading Service division of Collectors Universe. "For the merely curious, Collectors.com offers an exciting opportunity to discover items of potential interest."
For sellers, Willis said the site adds a new platform where potential buyers can find their coins and banknotes, and link to their website for purchase.
The site plans on expanding to dozens of other popular collectibles categories with future rollouts. An informational video found on the home page of www.Collectors.com explains how it all works.