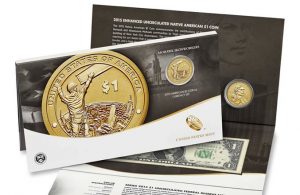 An affordable price, a key coin, a symbolic serial-numbered banknote, and a sellout in the prior issue set the stage today for a whirlwind of activity when the 2015 American $1 Coin and Currency Set launched.
A wave of collectors, dealers and flippers stormed the U.S. Mint's website at noon ET to order the new set. Many of them ran into a wall. All the traffic, evidently, brought online ordering to a crawl for the first 30 minutes or so. Frustrations over the problems lessened as the set's limits averted an early sellout. With persistence, clicking past error messages and browser refreshes, those who stuck around got one. They are still available, in fact. As for the website problems, the Mint is looking into them.
"We are investigating the problems with our web site and apologize for the inconvenience this caused our customers," Adam Stump, deputy director of the U.S. Mint's Office of Corporate Communications, said in an email at 3:56 PM ET.
Similar issues happened often during high-profile product launches before the U.S. Mint rolled out a new website and ordering system in late 2014. After that, buying new products became easier, quicker and problem-free. Then, about two weeks ago, on Aug. 11, the Mint's website crashed during the launch of the 2015 Dwight D. Eisenhower Coin & Chronicles Set. The Mint at that time said it was "due to an issue with a computer application" and unrelated to the set's release.
Available for $14.95, the 2015 American $1 Coin and Currency Set includes a tri-fold presentation folder that holds one enhanced uncirculated 2015 Native American $1 Coin and one $1 Series 2013 note from the Federal Reserve Bank of New York that has a beginning serial number of "911." The $1 coin is available only in the set. The set's product page is right here.
The U.S. Mint will release first day sales of the set by late Tuesday morning.