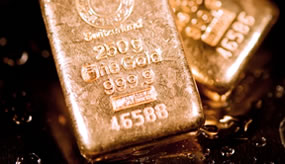 Gold ended lower for a fourth straight session Friday, though prices rebounded sharply from earlier declines that had the yellow metal as low as $1,282.40 an ounce. Losses stacked to a 0.8% weekly decline and that snapped a three-week winning streak.
Gold for December delivery edged down 70 cents to settle at $1,310.50 an ounce on the Comex division of the New York Mercantile Exchange. The precious metal regained traction after the U.S. jobs report for July came in short of expectations.
"The payrolls data leave much to be desired for the economy, and the Fed may not apply the brakes on stimulus just yet," Adam Klopfenstein, a senior market strategist at Archer Financial Inc., said in a telephone interview relayed by Bloomberg News. "Investors continue to be very cautious on mixed data signals."
Fewer analysts and traders expect higher gold prices next week, according to popular gold surveys. The survey by Bloomberg News has participants bearish for the first time in six weeks. Twelve surveyed expect lower prices compared to nine who were bullish and four who were neutral. The weekly survey from Kitco News was also more bearish.
"In the Kitco News Gold Survey, out of 36 participants, 21 responded this week. Of those 21 participants, six see prices up, while 11 see prices down and four see prices moving sideways or are neutral, meaning 28.6% were bullish, 52.4% bearish and 19% neutral," notes Kitco.

"Those who see weaker prices said the lack of a strong upside trend leaves gold vulnerable to selling… The participants who are neutral or see prices moving sideways said thin market conditions could leave prices range-bound…"
With the latest losses, gold sank further into the red for the year. The precious metal is off $365.30, or 21.8%, since the end of 2012. On a more positive note, gold surged in July, up $89.30, or 7.3%, for the largest monthly gain since January.
Silver, Platinum and Palladium Futures
While gold prices dipped on the week, other major metals gained. Weekly increases included 0.7% for silver, 2% for platinum and 0.8% for palladium. As for Friday:
Breaking a three-session losing streak, silver for September delivery climbed 28.8 cents, or 1.5%, to close at $19.91 an ounce.

Up for a second straight session, October platinum added $7.70, or 0.5%, to finish at $1,451.50 an ounce.

Palladium for September delivery shed $2.15, or 0.3%, to settle at $729.70 an ounce.
Year-to-date, silver has plummeted 34.1% and platinum has fallen 5.9%. Palladium is higher with its gain of 3.7% from the end of last year.
London Fix Precious Metals
London precious metals fixings declined Friday and they were mostly lower for the week. First, in comparing the PM London Fix prices between Thursday and Friday:
Gold lost $5.75, or 0.4%, to $1,309.25 an ounce,
Silver dropped 26 cents, or 1.3%, to $19.46 an ounce,
Platinum dipped $1, or 0.1%, to $1,436 an ounce, and
Palladium declined $3, or 0.4%, to $730 an ounce
Falling on the week was gold by 1.6%, silver by 2.8% and palladium by 0.1%. Platinum was the outlier, rising 0.6% from week ago.
US Bullion Coin Sales
U.S. Mint weekly bullion sales picked back up for gold coins and remained on fire for silver coins. In weekly breakdowns:
Silver coins soared 950,000 ounces compared to an almost equally strong 929,000 ounces in the previous week. All sales were for American Silver Eagles. America the Beautiful Silver Bullion Coins did not advance for the first time since early June.

Gold coins notched a solid weekly increase of 20,500 ounces after last week's very modest 4,000 ounces. Splits were 14,500 ounces in 22-karat American Gold Eagles and 6,000 ounces in 24-karat American Gold Buffalo coins.
Year-to-date Silver Eagle sales are at 29.45 million, which is already higher than the annual sales total for all but three years since the series began in 1986. The coin's annual sales record occurred in 2011 at 39,868,500. Then, it took until August 29, 2011 for sales to hit where they are now.
The following are the available daily, August and year-to-date bullion coin sales totals as published by the United States Mint.
American Eagle and Buffalo Bullion Coin Sales
Friday Sales
Last Week
Weekly Sales
August Sales
YTD Sales
$50 American Eagle Gold Bullion Coins
0
4,000
12,500
0
587,500
$25 American Eagle Gold Bullion Coins
1,000
0
1,000
1,000
48,000
$10 American Eagle Gold Bullion Coins
0
0
2,000
0
94,000
$5 American Eagle Gold Bullion Coins
0
0
10,000
0
450,000
$50 American Buffalo Gold Bullion Coins
1,000
0
6,000
1,000
181,000
White Mountain 5 oz. Silver Bullion Coins
0
0
0
0
29,900
Perry's Victory 5 oz. Silver Bullion Coins
0
800
0
0
20,800
Great Basin 5 oz. Silver Bullion Coins
0
0
0
0
17,400
American Silver Eagle Bullion Coins
0
925,000
950,000
0
29,450,000
Figures above are in the number of coins sold, not in ounces.