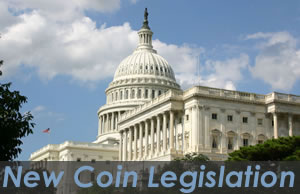 Legislation introduced in the U.S. House of Representatives seeks coins in 2018 to commemorate Hero Street USA.
In 1968, Second Street of Silvis, Illinois, was renamed Hero Street in tribute to the sacrifice and patriotism of its residents. Just a block and a half long, more than 100 men and women from Hero Street have served in the Armed Forces of the United States since Mexican-American immigrants settled there in 1929. The concentration is higher than any other street of comparable size. From the first generation residents, six were killed in World War II and two in the Korean War.
Entitled Hero Street USA Commemorative Coin Act and numbered H.R.2525, the legislation calls for up to 50,000 $5 gold coins, a maximum of 400,000 silver dollars and up to 750,000 clad half-dollars with designs emblematic of Hero Street USA. The bill was introduced by Rep. Cheri Bustos (D-IL) on May 21, 2015.
"It is truly because of the sacrifices made by families like those who have called Hero Street home, and the brave young service members from Hero Street who put their lives on the line for us, that the American Dream is still alive today," said Rep. Bustos.
Hero Street USA Commemorative Coins would be produced by the United States Mint in collector finishes of proof and uncirculated and sold only in year 2018, the 50th anniversary of Hero Street's renaming. Surcharges of $35 for every $5 coin, $10 per silver dollar and $5 for every half-dollar would be collected with each sale and paid to the Wounded Warrior Project (www.woundedwarriorproject.org) to carry out the organization's mission of honoring and empowering wounded warriors.
For H.R.2525 to become law, it must pass in the House, the Senate and get signed by the President. The bill currently has 79 cosponsors and awaits action in the House Committee on Financial Services.
To learn more about Hero Street USA, visit www.herostreetusa.org.