Today, April 16, the United States Mint started selling collector 2015-W $10 Bess Truman First Spouse Gold Coins.
Available in finishes of proof and uncirculated, the Truman coins feature designs emblematic of Bess, wife of the 33rd President of the United States, Harry S. Truman. Each is composed of one-half ounce of .9999 pure gold.
These coins mark the first of this year for the First Spouse Gold Coin series, a program that dates back to 2009. Program coins honor the spouses of former Presidents of the United States and launch in the order in which they served. For this year, there are four releases scheduled. They include:
2015 Bess Truman First Spouse Gold Coins (this release)
2015 Mamie Eisenhower First Spouse Gold Coins (scheduled release of May 7)
2015 Jacqueline Kennedy First Spouse Gold Coins (scheduled for release in June)
2015 Claudia Taylor "Lady Bird" Johnson First Spouse Gold Coins (scheduled for release in July)
The above coins represent the thirty-fifth through thirty-ninth of the program.
Designs of Bess Truman Fist Spouse Gold Coins
For the Bess Truman coins, two designs won out among thirteen candidate designs that included seven obverses and six reverses.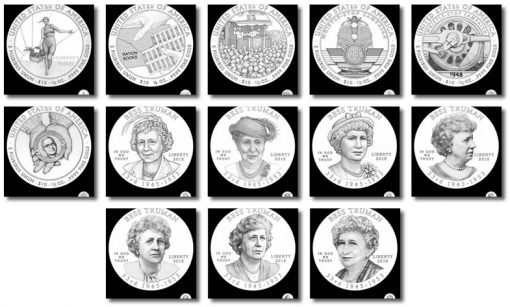 On obverses, Bess Truman's portrait is circled with inscriptions of "BESS TRUMAN," "IN GOD WE TRUST," "LIBERTY," "2015," "33rd," and "1945 – 1953." This effigy was created by United States Mint Artistic Infusion Program (AIP) Master Designer Joel Iskowitz and sculpted by United States Mint Sculptor-Engraver Phebe Hemphill. A 'W' mintmark is also on the obverse, indicating the 1.043 inches (26.50 mm) diameter coin was produced at the U.S. Mint facility in West Point.
Iskowitz also designed the coins' reverse, which depicts Bess' support for the 1948 whistle stop campaign to re-elect her husband as President. Inscriptions read: "UNITED STATES OF AMERICA," "WHISTLE STOP CAMPAIGN," "E PLURIBUS UNUM," "$10," "1/2 OZ.," and ".9999 FINE GOLD." It was sculpted by Joseph Menna.
Pricing and Ordering
2015-W $10 Bess Truman First Spouse Gold Coins are available directly from the United States Mint at www.usmint.gov with the spousal coins located here. Telephone orders are accepted at 1-800-USA-MINT (872-6468).
Current pricing is $790.00 for the proof and $770.00 for the uncirculated. This is subject to change weekly, however, based on market fluctuations. Like other recent series issues, the coins have a 10,000 mintage limit. Early sales figures will determine if the U.S. Mint actually makes that many.
A custom designed, highly polished, dome-chested, lacquered hardwood presentation case protects each encapsulated coin. A certificate of authenticity is also included with each purchase.
Bess Truman Bronze Medals
Along with the gold coins, the United States Mint will offer duplicate First Spouse Bronze Medals. Bess Truman medals will be in two sets.
The first of these is the Truman Presidential $1 and First Spouse Medal Set, scheduled for release on April 29 for $9.95. It includes a Harry S. Truman Presidential $1 Coin and the Bess Truman medal. In September, the 2015 First Spouse Medal Set will launch. It has bronze medal replicas of all four 2015 First Spouse Gold Coins.
About Bess Truman
Elizabeth Virginia Wallace, commonly called "Bess," was born on Feb. 13, 1885 in Independence, Missouri. She met her future husband, Harry Truman, in school and the two married in 1919.
In 1945, Harry assumed the office of President of the United States after the death of Franklin D. Roosevelt. Bess preferred a more quiet role in the White House but did see to household and official duties as needed.
Following the Presidency, the Trumans returned to Missouri where Bess lived until her death in 1982.
To learn more about Mrs. Truman, visit http://www.firstladies.org/biographies/firstladies.aspx?biography=34.