Today, April 29, the U.S. Mint started taking orders for the latest addition to its series of Presidential $1 Coin & First Spouse Medal Sets. This new set honors the 33rd President of the United States, Harry S. Truman, and his wife, Bess.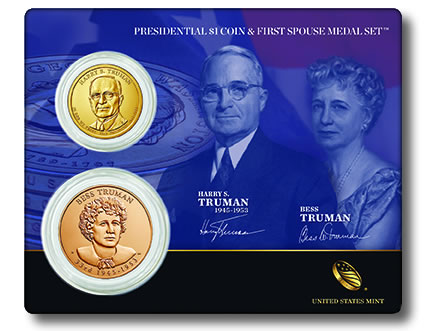 Priced at $9.95, this collectible product has one uncirculated quality Harry S. Truman Presidential $1 Coin and one Bess Truman First Spouse Bronze Medal. The dollar and bronze medal are held in a decorative card with their portraits and their signatures.
Harry S. Truman Presidential $1 Coins went on sale in U.S. Mint-branded rolls, bags and boxes on Feb. 5. The prices of those products range from $32.95 to $275.95. Since their release, collectors have scooped up a total of 4.51 million Truman dollars.
The bronze medal is in the likeness of the Bess Truman First Spouse Gold Coin, which launched on April 16. The West Point Mint makes all First Spouse Gold Coins. They are struck in one-half ounce of 24-karat gold and available in uncirculated and proof finishes. The U.S. Mint is now selling proofs for $790 and uncirculated issues for $770. These prices can vary from week to week based on the market value of gold. So far, collectors have ordered 1,350 of the proof and 847 of the uncirculated.
Ordering Information
Anyone can place orders for the Presidential $1 Coin & First Spouse Medal Set by visiting the United States Mint's website at catalog.usmint.gov. The sets are located here. Orders are also accepted by phone at 1-800-USA-MINT (872-6468).
Past Set Sales
For the first few years of the program, the U.S. Mint would sell First Spouse Bronze Medals individually, but in 2011 they discontinued that option. Since then, Presidential $1 Coin & First Spouse Medal Sets have been a primary source for getting the bronze medals of the former First Ladies.
Here is a list of Presidential $1 Coin & First Spouse Medal Sets with their latest prices and sales:
Prices
Latest
Sales
2014 Roosevelt
$9.95
7,000
2014 Hoover
4,500
2014 Coolidge
4,500
2014 Harding
4,500
2013 Wilson (with Edith medal)
3,987
2013 Wilson (with Ellen medal)
3,990
2013 Taft
3,975
2013 Roosevelt
4,982
2013 McKinley
3,984
2012 Arthur
5,407
2012 Cleveland (1st term)
4,766
2012 Harrison
4,811
2012 Cleveland (2nd term)
4,413
2011 Johnson
$14.95
6,817
2011 Grant
7,383
2011 Hayes
5,826
2011 Garfield
5,510
2010 Fillmore
$11.95
10,735
2010 Pierce
8,505
2010 Buchanan's Liberty
8,455
2010 Lincoln (sold out)
15,858
The U.S. Mint also issues an annual First Spouse Bronze Medal Set that has each year's medals. This year's set with medals featuring Bess Truman, Mamie Eisenhower, Jackie Kennedy and Claudia Taylor "Lady Bird" Johnson is scheduled to launch in August.