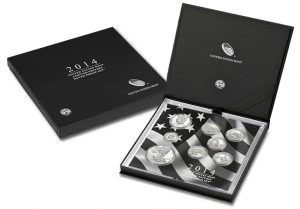 A late release made little difference to the sales start for the 2014-dated Limited Edition Silver Proof Set. Similar to past issues, it enjoyed strong early demand, the latest sales figures from the United States Mint show.
Release on March 17, 2015, collectors scooped up 20,529 by March 22. That's 41% of the set's 50,000 limit. The Tuesday through Sunday sales haul represents over $2.87 million in revenue at its $139.95 price.
These comparatively new products do sell out. The prior 2013-dated set sold out at 47,971. As a point of interest, the U.S. Mint didn't report the first batch of sales for it until more than two weeks after the release. They were 29,153. The very first set, from 2012, sold out at 50,169. It logged five-day starting sales of 19,290.
Packaging improvements delayed the release of this latest proof set. Within it is a 2014-W American Silver Eagle, a 2014-S Kennedy silver half-dollar, five 2014-S America the Beautiful silver quarters and a 2014-S Roosevelt silver dime. The amount of silver across the coins totals 2.338 troy ounces.
Those who are interested may order sets directly from the U.S. Mint's website, found here, or call 1-800-USA-MINT (872-6468).