Today, March 12, the United States Mint started selling five collectible products with varying sizes and quantities of 2015-W Proof American Gold Eagles.
American Gold Eagles come in 1 oz., 1/2 oz., 1/4 oz. and 1/10 oz. sizes that correspond to denominations of $50, $25, $10 and $5. Product options include each coin size, and a four-coin set that has them all.
Produced for coin collectors and unlike the bullion versions that launched on Jan. 5, these proofs carry the "W" mint mark from the U.S. Mint at West Point and feature sharp frosted designs on mirror-like backgrounds. Since their introduction in 1986, all Gold Eagles are in 22-karat gold – 91.67% gold, 3.0% silver and the remainder copper.
Starting Prices, No Product or Mintage Limits
Early pricing for each of the individual coins and the four-coin set are:
2015 Proof American Gold Eagle Coins Debut Prices
DEBUT PRICES
2015-W Proof Gold Eagles (1 oz)
$1,510.00
2015-W Proof Gold Eagles (1/2 oz)
$770.00
2015-W Proof Gold Eagles (1/4 oz)
$397.50
2015-W Proof Gold Eagles (1/10 oz)
$170.00
2015-W Proof Gold Eagle Four-Coin Set
$2,797.50
The above amounts are "debut prices" because they are subject to change. The United States Mint reviews numismatic gold coin pricing every week and will make changes based on market conditions. These reviews occur on Wednesdays with adjustments made that same day, if needed. A London gold Fix average within the $1,150.00 to $1,199.99 an ounce range is the basis for the starting coin prices.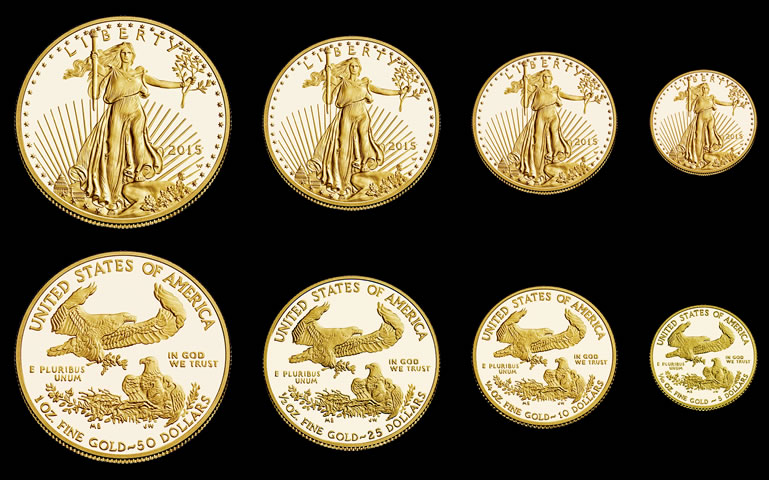 Last year when gold was near $1,284 an ounce, the 2014-W Proof American Gold Eagles opened at higher prices – the one ounce at $1,610.00, the one-half ounce at $820.00, the one-quarter ounce at $422.50, one-tenth ounce at $180.00 and the four-coin set at $2,982.50.
In a departure from previous years, the U.S. Mint has not established mintage, product or household ordering limits. In a new release published March 11, the Mint simply said "customer demand will determine the number of coins produced." Last year's issues had mintages of 35,000 for the one-ounce coin; 25,000 for the one-half ounce coin; 25,000 for the one-quarter ounce coin; and 35,000 for the one-tenth ounce coin. The four-coin set had a product limit of 15,000.
Coin Designs and Specifications
American Gold Eagles have kept the same obverse and reverse imagery. Obverses bear Augustus Saint-Gaudens' Liberty design as first seen on the 1907 to 1933 $20 double eagle. An allegorical figure of Liberty has a lit torch in one hand and an olive branch in the other.
A small image of the U.S. Capitol building appears behind along with stretching rays of sunshine. Surrounding the image are 50 starts and inscription of LIBERTY and the 'W' mintmark.
Miley Frances Busiek's depiction of a family of eagles appears on reverses. A male eagle is in flight carrying an olive branch above a nest with a female eagle and her two eaglets.
Reverse inscriptions include UNITED STATES OF AMERICA, E PLURIBUS UNUM, IN GOD WE TRUST and the coin's precious metal weight and legal tender face value.
American Gold Eagle Coin Specifications

$50
$25
$10
$5
Composition
22 Karat Gold (91.67% Gold
3.0% Silver
Balance Copper)
Weight
1.0909 troy oz.
(33.931 grams)
0.5455 troy oz.
(16.966 grams)
0.2727 troy oz.
(8.483 grams)
.1091 troy oz.
(3.393 grams)
Diameter
1.287 inches
(32.70 mm)
1.063 inches
(27.00 mm)
0.866 inch
(22.00 mm)
0.650 inch
(16.50 mm)
Thickness
0.113 inch
(2.87 mm)
0.085 inch
(2.15 mm)
0.070 inch
(1.78 mm)
0.049 inch
(1.26 mm)
Edge
Reeded
Ordering
2015-W Proof American Gold Eagles are available directly from the U.S. Mint's online product page of gold coins, located here. (Sort by 'New Products'.) Place telephone orders at 1-800-USA-MINT (872-6468).