United States Mint sales of 2015 US Marshals products bounced by another 42,257 coins through Sunday after sales of 89,402 coins in the first 12 hours. That places their four-day total at 131,659 coins, or $11,628,537.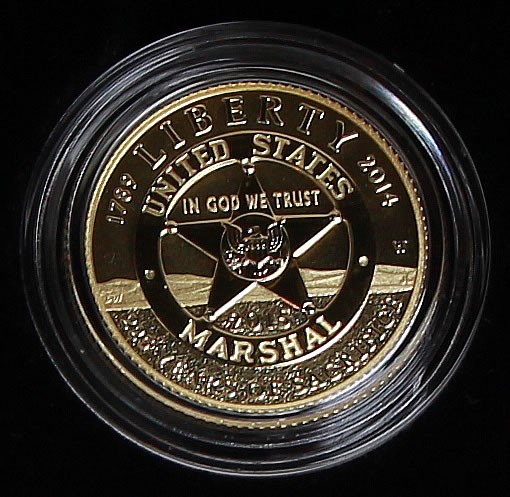 Sales would have been higher but it's been impossible to place orders for some of the coins. Ordering of the Three-Coin Proof Set lasted for slightly over 24 hours before the U.S. Mint tagged them in their online store as "out of stock." There are still 5,099 left based on the latest sales figures. Presumably, the Mint is now getting those readied.
The story is similar for the gold and silver coins. By Saturday, four of the seven US Marshal commemorative products were marked as "out of stock." By Monday, only the two clad half-dollars were available for immediate shipping. The gold coins have held in "out of stock" status while the two silver dollars have rotated between "out of stock" and "back order."
Plenty of US Marshals Commemorative Coins remain. It's just a waiting game as the Mint strikes more and packages them. Also, those products listed as "out of stock" now have the "Remind Me" option to request an email when they return for sale. That hasn't always been the case.
Here are the four-day sales splits across all the US Marshals Service 225th Commemorative Coin products:
Introductory Prices
4-Day Unit Sales
4-Day Coin Sales
Total Sold
Maximum Authorized
Remaining
Proof 50c Clad Half-Dollar
$14.95
22,953
32,854
46,177
750,000
708,823
Uncirculated 50c Clad Half-Dollar
$13.95
13,323
13,323
Proof Silver Dollar
$46.95
37,530
47,431
66,266
500,000
433,734
Uncirculated Silver Dollar
$43.95
18,835
18,835
Proof $5 Gold Coins
$412.60
4,759
14,660
19,216
100,000
80,784
Uncirculated $5 Gold Coins
$407.60
4,556
4,556
Three-Coin Proof Set
$473.60
9,901
N/A
9,901
15,000
5,099
Three-Coin Proof Sets have one proof $5 gold coin, one proof silver dollar, and one proof clad half-dollar.
US Marshals coins are available online from this U.S. Mint page, or by calling 1-800-USA-MINT (872-6468).