Now's the time to get $5 gold, $1 silver and 50c clad commemorative coins honoring the 225th anniversary of the United States Marshals Service, America's oldest federal law enforcement agency.
Produced and sold by the United States Mint, buying options include 7 different collectible products that have discounted introductory prices ranging from $13.95 to $473.60.
U.S. Marshals Service Commemorative Coin Designs
Forty-seven design candidates were crafted for the gold, silver and clad commemorate coins. From those, six were selected by the Treasury Secretary.
2015 $5 Marshals Gold Coin
Designed by Donna Weaver and sculpted by Jim Licaretz, gold coin obverses depict the U.S. Marshals Service Star superimposed on a mountain range evoking a western landscape. Inscriptions include 1789, LIBERTY, 2014, UNITED STATES, IN GOD WE TRUST, 2015, MARSHAL and 225 YEARS of SACRIFICE.
Reverses memorialize fallen U.S. Marshals Service personnel. Designed by Paul C. Balan and sculpted by Don Everhart, they depict an eagle holding a draped American flag. On the eagle's chest is a shield with the inscription U.S. MARSHAL. A banner in the eagle's claw bears the inscription E PLURIBUS UNUM. Additional inscriptions include the Marshals Service motto of JUSTICE INTEGRITY SERVICE, as well as UNITED STATES OF AMERICA and $5.
2015 Marshals Silver Dollar
Designed by Richard Masters and sculpted by Charles Vickers, silver dollar obverses depict U.S. Marshals riding horses below a U.S. Marshals Service star. Inscriptions read LIBERTY, 1789-2014, IN GOD WE TRUST and 2015.
Reverses honor the agency's legendary status in history. Designed by Frank Morris and sculpted by Joseph Menna, they depict a frontier U.S. Marshal leaning against a post and holding a wanted poster. Inscription include WANTED IN FT. SMITH, JUSTICE, INTEGRITY, SERVICE, E PLURIBUS UNUM, UNITED STATES OF AMERICA and $1.
2015 Marshals Half-Dollar
Designed by Joel Iskowitz and sculpted by Michael Gaudioso, clad half-dollar obverses depict an Old West U.S. Marshal with a rifle and horse opposite of a present-day female deputy U.S. Marshal in tactical gear. Inscriptions read LIBERTY, 1789-2014, 2015 and IN GOD WE TRUST.
Reverses have elements representing pivotal issues in American history, and tie the Marshals to the United States Constitution. Designed by the late Susan Gamble and sculpted by Phebe Hemphill, they depict Lady Justice holding the scale of justice in her left hand and the U.S. Marshals Service star in her right. Next to Lady Justice is a copy of the United States Constitution, a stack of school books, handcuffs and a whiskey jug, objects symbolizing well-known areas of responsibility in the history of the U.S. Marshals Service. Inscriptions include UNITED STATES OF AMERICA, E PLURIBUS UNUM and HALF DOLLAR.
Production Facilities, Mintages and Product Prices
Mint marks, mintages, introductory prices and regular prices are listed below for the seven products.
Mint Mark
Mintages
Introductory Prices
Regular Prices
Proof 50c Clad Half-Dollar

S

750,000
$14.95
$18.95
Uncirculated 50c Clad Half-Dollar

D

$13.95
$17.95
Proof Silver Dollar

P

500,000
$46.95
$51.95
Uncirculated Silver Dollar

P

$43.95
$48.95
Proof $5 Gold Coins

W

100,000
$412.60
$417.60
Uncirculated $5 Gold Coins

W

$407.60
$412.60
Three-Coin Proof Set

W, P, and S

$473.60
$478.60
Mint marks denote where the coins are produced with:
"W" for the West Point Mint,
"P" for the Philadelphia Mint,
"S" for the San Francisco Mint, and
"D" for the Denver Mint.
These mint marks appear on the obverse side of each coin.
Mintages are the maximum number of coins that may be produced under the law. Commemorative coin laws tend to be very generous with these totals. In reality, the U.S. Mint will only strike enough coins to fulfill demand, and only sell them through to the end of 2015. Also, customer demand will determine the ratio of proof to uncirculated coins minted within the authorized mintage limits. Finally, the three-coin proof set has a U.S. Mint-imposed product limited of 15,000.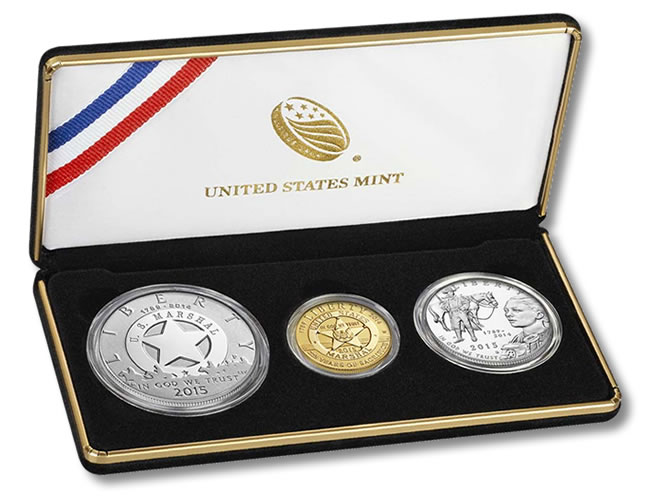 Keep in mind that prices are static for the silver and clad commemoratives but they may change every Wednesday for the two gold coins and three-coin proof set. Current gold coin pricing is based on a weekly average of the London gold Fix that sits within $1,250.00 to $1,299.99 an ounce. Every $50 movement outside the range, up or down, will result in a $12.15 adjustment in the price of the gold products.
Introductory pricing ends on March 2, 2014 at 3 p.m. EST, when regular pricing takes effect. Buyers will then have to pay $4 more for each clad half-dollar and $5 more for each silver and gold coin.
All prices above include surcharge amounts of $35 for each gold coin, $10 for each silver dollar, and $5 for each half-dollar. By law, the first $5 million in surcharges will be paid to the U.S. Marshals Museum (www.usmarshalsmuseum.com) for the preservation, maintenance, and display of artifacts and documents. The remainder will be divided among the National Center for Missing and Exploited Children, the Federal Law Enforcement Officers Association Foundation, and the National Law Enforcement Officers Memorial Fund.
Ordering
2015 U.S. Marshals Service 225th Anniversary Commemorative Coins may be ordered from the U.S. Mint's online store at:
U.S. Mint Page for Ordering Commemoratives
Orders are also accepted at 1-800-USA-MINT (872-6468), while hearing- and speech-impaired customers with TTY equipment may order at 1-888-321-MINT.
Commemorative Coin Specifications and Compositions
Design requirements, coin denominations, major specifications and how many can be made are all outlined by the U.S. Marshals Service 225th Anniversary Commemorative Coin Act, Public Law 112-104, which was enacted on April 2, 2012. The following tables offer major technical details for each type of coin.
$5 Gold Coin Specifications


| | |
| --- | --- |
| Weight: | 8.359 grams nominal |
| Composition: | 90% gold, 10% alloy |
| Edge: | Reeded |
| Mintage Limit: | 100,000 across all product options |
| Diameter: | .850 inch (±0.003) or 21.59 mm (±0.08) |
| Mint Marks: | 'W' for West Point – Proof and Uncirculated |
$1 Silver Coin Specifications


| | |
| --- | --- |
| Weight: | 26.730 grams nominal |
| Composition: | 90% silver, 10% copper |
| Edge: | Reeded |
| Mintage Limit: | 500,000 across all product options |
| Diameter: | 1.500 inches (±0.003) or 38.10 mm (±0.08) |
| Mint Marks: | 'P' for Philadelphia – Proof and Uncirculated |
50c Clad Coin Specifications

Weight:
11.340 grams nominal (± 0.454)
Composition:
92% copper, 8% nickel
Edge:
Reeded
Mintage Limit:
750,000 across all product options
Diameter:
1.205 inches (±0.002) or 30.61 mm (±0.05)
Mint Marks:
'D' for Denver, Uncirculated;
'S' for San Francisco Mint, Proof