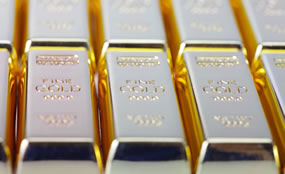 Gold advanced Friday despite weak US inflation data, and that extended the yellow metal's win streak to six sessions and brought a 20-week high closing price.
Gold for February on Friday tacked on $12.10, or 1%, to settle at $1,276.90 an ounce on the Comex division of the New York Mercantile Exchange. The settlement price is the strongest since gold ended at $1,287.40 an ounce on Aug. 29.
"There's a lot more uncertainty in Europe and the U.S., and that's piqued a lot of investors' interest in gold," Bloomberg News quoted Fain Shaffer, the president at Infinity Trading Corp. in Indianapolis.
Bloomberg noted that call options for the right to own February futures at $1,300 an ounce surged sevenfold in two days.
"Rising open interest is bullish for gold and means that traders feel gold is going to move higher over the short term," Shaffer said.
Gold prices shot up 5% this week — the biggest weekly gain in 1 1/2 years, and they are up 7.8% on the year.
On Friday, the U.S. Labor Department reported the largest decline in consumer inflation in six years. Consumer prices fell 0.4% in December with inflation in 2014 easing to 0.8%, the second lowest reading in the last five decades. Traditionally, gold has been purchased as a hedge against inflation.
Silver for March delivery surged 65 cents, or 3.8%, to close at $17.75 an ounce. Advancing in five of six sessions, silver rallied 8.1% on the week. The precious metal has gained 13.8% since ending 2014 at $15.60 an ounce.
In PGM futures on Friday and for the week:
April platinum added $6.60, or 0.5%, to $1,269.40 an ounce, rising 3.2% from a week ago.

Palladium for March delivery declined $12.05, or 1.6%, to $754.30 an ounce, falling 5.7% on the week.
For the year to date, platinum has gained 5% but palladium has plunged 5.5%.
London Fix Precious Metals
London precious metals were mixed on Friday and on the week. In comparing London bullion Fix prices from Thursday PM to Friday PM:
Gold added $18.50, 1.5%, to $1,277.50 an ounce,
Silver slipped 20 cents, or 1.2%, to $16.92 an ounce,
Platinum gained $4, or 0.3%, to $1,262 an ounce, and
Palladium declined $23, or 2.9%, to $757 an ounce.
This week, palladium tumbled 4.8% while the other metals logged gains of 4.9% for gold, 4.2% for silver and 3% for platinum.
US Mint Bullion Coin Sales in January
United States Mint bullion sales jumped out of the gate for newly issued 2015 American Silver Eagles, and they were strong for 2015-dated gold coins during their second full week of release.
On Monday, first-day sales of 2015 Silver Eagles reached 2,958,000. By Wednesday, they advanced to 3,701,500 where they have stayed. That level is already the highest for a month since October sales of 5.79 million.
Gold coins on the week added 45,000 ounces after soaring by 63,500 ounces in the previous week when the 2015-dated versions debuted. Splits were 31,000 ounces in American Gold Eagles compared to 45,000 ounces previously, and 14,000 ounces in American Gold Buffalos compared to 18,500 ounces previously. Gold Eagle sales at 76,000 ounces for the month so far are the highest since January 2014 sales of 91,500 ounces. Likewise, Gold Buffalo sales at 32,500 ounces are the most since January 2014 sales of 41,500 ounces.
Below is a sales breakdown of U.S. Mint bullion products with columns listing the number of bullion coins sold on Friday, last week, this week, in December, last year, and the year to date. Coins with an asterisk (*) have sold out for 2014 and 2015-dates versions have yet to be released.
American Eagle and Buffalo Bullion Sales (# of coins)
Friday Sales
Last Week
Current Week
December Sales
2014 Sales
January / 2015 Sales
$100 American Platinum Eagle Bullion Coins*
0
0
0
0
16,900
0
$50 American Eagle Bullion Gold Coins
3,500
26,000
23,500
13,000
415,500
49,500
$25 American Eagle Bullion Gold Coins
2,000
13,000
5,000
0
46,000
18,000
$10 American Eagle Bullion Gold Coins
4,000
24,000
10,000
6,000
118,000
34,000
$5 American Eagle Bullion Gold Coins
5,000
65,000
25,000
35,000
565,000
90,000
$50 American Buffalo Bullion Gold Coins
3,500
18,500
14,000
4,500
177,500
32,500
$1 American Eagle Silver Bullion Coins
0
0
3,701,500
2.459M
44.006M
3,701,500
Great Smoky Mountains National Park 5 Oz Silver Bullion Coins*
0
0
0
0
33,000
0
Shenandoah National Park 5 Oz Silver Bullion Coins
0
0
0
1,100
24,400
0
Arches National Park 5 Oz Silver Bullion Coins*
0
0
0
0
22,000
0
Great Sand Dunes 5 Oz Silver Bullion Coins*
0
0
0
4,000
21,900
0
Everglades 5 Oz Silver Bullion Coins*
0
0
0
7,000
34,000
0