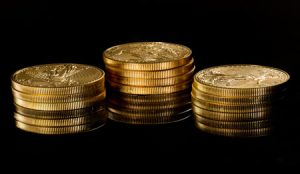 Gold, silver and other precious metals declined on Friday yet surged on the week. Gold's weekly gain was the first in six weeks. Supportive, demand for U.S. Mint bullion coins was elevated for a fourth straight week as gold coin sales exploded.
Gold for December delivery shed $3.60, or 0.3%, to settle at $1,221.70 an ounce on the Comex division of the New York Mercantile Exchange.
"In the short term, I think gold will be around $1,220, supported by the market sentiment after the release of the Fed minutes," Reuters quoted Chen Min, a precious metals analyst at Jinrui Futures in Shenzhen. "It is likely to test a resistance level at $1,240 and could fall below $1,200 before the end of the year."
Gold rallied 2.4% from last Friday when it closed at its lowest price of the year and below $1,200 an ounce. The precious metal kicked off strong gains on Wednesday when minutes from the latest Fed policy meeting spurred buying. Gold's gain on the year to date improved to 1.6%.
Gold Outlook
Participants in the latest Kitco News survey are divided about gold's direction next week after four consecutive weeks of bearish expectations. Ten survey takers expect the yellow metal to rise next week, 9 see lower prices and 4 see prices trading sideways or are neutral. Kitco News reports:
"Those who see higher prices said they believe gold will continue to build on the bounce off the $1,180 area seen this week… Those who see weaker prices said they believe gold's rally this week is only temporary… A few survey participants said they see prices going sideways as the market looks to consolidate the recent moves…"
Kitco gold survey results last week had splits of 16 down, 7 up, and 3 sideways or neutral.
Silver, Platinum and Palladium Futures
In rounding out the precious metals complex for the day and week:
Silver for December delivery fell 12 cents, or 0.7%, to $17.30 an ounce, but jumped 2.8% from a week ago.

January platinum declined $16.70, or 1.3%, to $1,261.60 an ounce, yet also advanced 2.8% on the week.

Palladium for December delivery lost $15.45, or 1.9%, to $785.05 an ounce, but surged 4% from a week ago.
For the year so far, silver has fallen 10.7%, platinum has declined 8.2% and palladium has climbed 9.3%.
London Fix Precious Metals
London precious metals fell on Friday yet jumped on the week. When comparing London bullion Fix prices and the LBMA Silver Price from Thursday PM to Friday PM:
Gold fell $7.75, or 0.6%, to $1,219 an ounce,
Silver tumbled 38 cents, or 2.2%, to $17.26,
Platinum slipped $26, or 2%, to $1,256 an ounce, and
Palladium declined $25, or 3.1%, to $784 an ounce
Weekly increases included 2% for gold, 1.7% for silver, 0.6% for platinum and 2.8% for palladium.
US Mint Bullion Coin Sales in October
Gold coin weekly sales were the highest since mid-January when new 2014-dated Gold Eagle and Gold Buffalo coins sparked buying. That was the story for silver coins last week when their sales jumped the most since the 2014-dated Silver Eagles launched. This week silver coin sales slowed from that sprinting speed, though they were still strong compared to the many weaker performances though the middle months and leading up to September. In the latest week-over-week comparisons:
Gold coins rose 36,500 ounces after increasing 15,500 ounces in the previous week. Splits were 28,000 ounces in American Gold Eagles compared to 11,500 ounces previously, and 8,500 ounces in American Gold Buffalos compared to 4,000 ounces previously.

Silver coins gained 874,000 ounces after soaring 2,751,500 ounces for the highest tally since the week when the 2014-dated American Silver Eagles launched on Jan. 13. Splits were 870,000 ounces in American Silver Eagles compared to 2.74 million ounces previously, and 4,000 ounces in America the Beautiful Five Ounce Silver Bullion Coin compared to 11,500 ounces previously.
Below is a sales breakdown of U.S. Mint bullion products with columns listing the number of bullion coins sold on Friday, last week, this week, last month, in October, and the year to date.
American Eagle and Buffalo Bullion Sales (# of coins)
Friday Sales
Last Week
Current Week
September Sales
October Sales
YTD Sales
$100 American Platinum Eagle Bullion Coins
0
2,500
N/A*
2,700
400
16,700
$50 American Eagle Bullion Gold Coins
5,500
10,000
24,500
50,500
28,500
324,500
$25 American Eagle Bullion Gold Coins
0
1,000
3,000
6,000
4,000
36,000
$10 American Eagle Bullion Gold Coins
0
0
6,000
8,000
6,000
98,000
$5 American Eagle Bullion Gold Coins
0
10,000
5,000
30,000
10,000
450,000
$50 American Buffalo Bullion Gold Coins
1,500
4,000
8,500
14,500
11,000
150,500
$1 American Eagle Silver Bullion Coins
200,000
2,740,000
870,000
4,140,000
2,520,000
34,771,000
Great Smoky Mountains National Park 5 Oz Silver Bullion Coins
0
1,500
0
3,500
0
33,000
Shenandoah National Park 5 Oz Silver Bullion Coins
0
0
0
1,000
0
21,500
Arches National Park 5 Oz Silver Bullion Coins
0
0
0
800
0
22,000
Great Sand Dunes 5 Oz Silver Bullion Coins
0
800
800
4,500
1,300
13,300
*The U.S. Mint stopped selling 2014 Platinum Eagle bullion coins on Oct. 1. The agency will begin selling 2015-dated Platinum Eagles in early January.