Numismatic Guaranty Corporation (NGC) has more than 10 million photos of coins and all of them are available for free on its website and smartphone app, the company announced Wednesday, Jan. 14, 2015.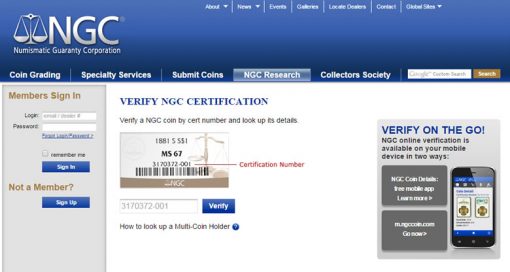 Taken of both sides of coins after they have been certified and encapsulated, NGC describes the images as "highly effective" in combating counterfeit or tampered holders.
"This important milestone signifies the great efforts that NGC has made to protect consumers," says Steven R. Eichenbaum, CEO of Numismatic Guaranty Corporation.
NGC has been photographing graded coins since October 2008. The company said its photos archive is now accessed more than 200,000 times a month.
"NGC's coin image database — the largest in the world — is an important benefit of NGC certification and a major factor in the increased confidence that comes from buying NGC-certified coins," Eichenbaum added.
Using the online Verify NGC Certification tool, the only requirement to get access to a coin's images and relevant grading information is an NGC certification number. The free smartphone app, titled NGC Coin Details, is available on the iTunes App Store and Google Play.