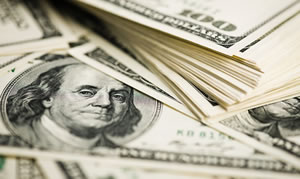 U.S. money production for Fiscal Year 2015 is estimated to hit 7.2 billion notes valued at over $188.7 billion, the Bureau of Engraving and Printing (BEP) announced.
Those numbers are based on how many banknotes the Federal Reserve has ordered for circulation due to estimates for cash, and they include currency the BEP sets aside to be sold for numismatic products.
Mainly, the majority of the order is for replacements. The BEP indicates that the bulk of paper notes printed each year are to replace those already in or taken out of circulation. Many bills have to be destroyed, because their condition no longer meets the criteria for recirculation. Also, old $100s are getting replaced with the new $100 design.
"The estimated number of notes that Reserve Banks will destroy accounts for nearly 85 percent of the proposed FY 2015 print order and includes both unfit currency, as well as all old-design $100 notes received from circulation," the Federal Reserve Board points out.
The 7.2 billion figure for Fiscal Year 2015 is not set in stone. Annual orders can and have been adjusted in the past.
"If we ever need modifications to the order, we have that available to us," said Michael Lambert, associate director for the U.S. Currency Program at the Federal Reserve Board.
That happened during the global financial crisis when demand for $100s surged from abroad, Lambert noted.
"But typically, we place an order that year and we don't adjust it, we don't have the need to adjust it during the course of the year," Lambert said.
Here's how the Fed's annual print order breaks down by face value, quantity and dollar value:
| Denomination | Number of Notes | Dollar Value |
| --- | --- | --- |
| $1 | 2,451,200 | $2,451,200 |
| $2 | 32,000 | $64,000 |
| $5 | 755,200 | $3,776,000 |
| $10 | 627,200 | $6,272,000 |
| $20 | 1,868,800 | $37,376,000 |
| $50 | 220,800 | $11,040,000 |
| $100 | 1,276,800 | $127,680,000 |
| Total | 7,232,000 | $188,659,200 |
The U.S. Treasury Department's Bureau of Engraving and Printing produces Federal Reserve notes from two facilities. They are located in Fort Worth, TX and in Washington, DC. On average every day in Fiscal Year 2014, the two facilities used about 8.9 tons of ink to deliver approximately 24.8 million notes, worth about $560 million, at an average cost of 10 cents per note.
The BEP operates on a fiscal year that begins on October 1 and ends on September 30.