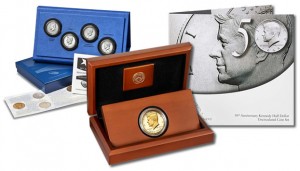 New sales figures from the United States Mint show surging weekly gains for the clad and silver sets of 50th Anniversary 2014 Kennedy Half-Dollars.
To be sure, better increases were more likely after the U.S. Mint ended household ordering limits for the two products on Nov. 17.
Here's a table of recent sales for all three 50th Anniversary Kennedy products that feature 7 coins in varying finishes and compositions.
Unit
Change
(Nov 3-9)
Unit
Change
(Nov 10-16)
Unit
Change
(Nov 17-23)
Latest
Sales
Kennedy Half-Dollar Silver Coin Collection
12,655
6,770
21,252
165,824
Kennedy Half-Dollar Gold Proof Coin
493
312
442
67,301
Kennedy Half-Dollar Uncirculated Clad Coin Set
4,414
2,706
17,363
166,291
How long the sales surge goes on is anyone's guess. You'd expect some pullback after these gains, but then there's also Christmas ahead and that could support stronger set purchases for gifts — especially for the cheaper clad set. Also, the just announced lower limit for the silver collection, to 225,000 from 300,000, may draw new or extra interest from collectors who like the smaller mintage.
Based on their limits, the silver coin collection is at 73.7% of its revised maximum 225,000 sales and the clad set is at 83.1% of its maximum 200,000 sales.
Kennedy half-dollar products may be ordered online from the U.S. Mint here, or by calling 1-800-USA-MINT (872-6468).