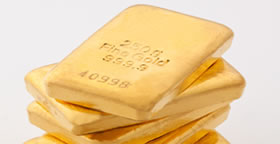 Gold, silver and platinum advanced for a second straight week while palladium scored a first weekly gain in three.
Gold for December delivery tacked on $6.80, or 0.6%, to settle at $1,197.70 an ounce on the Comex division of the New York Mercantile Exchange. The precious metal went as high as $1,207.60, the strongest price since Oct. 30.
An unexpected rate cut from China's central bank and dovish-taken comments from European Central Bank President Mario Draghi buoyed gold, opined analysts.
"The world is now fully united in printing money and debasing currencies, a situation that cannot end well," MarketWatch quoted Peter Hug, global trading director at Kitco Metals Inc. "Do the metals have downside risk, sure, but from a longer-term prospective, these levels will prove inexpensive, when, not if, inflation grabs."
"Any measures that accelerate the spending power of the Chinese public are bound to be positive for gold," Reuters quoted Mitsubishi analyst Jonathan Butler said. This could mean "additional spending power for Chinese consumers to buy jewelry and investment products."
"People will buy gold as a hedge, since it is clear that China wants to stimulate growth," Santalla, a sales and marketing manager at Heraeus Metal, said in a telephone interview according to Bloomberg News. "Also, we are seeing a rise in physical demand."
For the week, gold prices advanced 1% and that paired losses on the year so far to 0.4%.
Gold Outlook
Results of the latest Kitco News survey are bullish for gold. Fourteen survey takers expect the yellow metal to rise next week, 6 see prices falling and 3 see prices trading sideways or are neutral. Kitco News reports:
"Those who see higher prices point to gold's positive action on Friday in the face of a stronger dollar and the rising open interest in the futures market… Those who see weaker prices said generally positive U.S. data is a reminder that the Federal Reserve will start to remove monetary policy accommodation in the coming months, which counters any stimulus done by the ECB… Those who see prices trading sideways or are neutral said the current gains gold is enjoying won't last for long and the market is likely to consolidate…"
Kitco gold survey results last week had splits of 11 down, 5 up, and 3 sideways or neutral.
Silver, Platinum and Palladium Futures
Silver for December delivery jumped 26 cents, or 1.6%, to close at $16.40 an ounce. Silver prices edged up 0.5% from a week ago. They are down 15.4% from the end of 2013.
In PGM futures on Friday and for the week:
January platinum settled up $21.70, or 1.8%, to $1,227.30 an ounce and gained 1.2% on the week.

Palladium for December delivery rallied $27.75, or 3.6%, to $794.90 an ounce and advanced 3.1% from a week ago.
On the year to date, palladium has gained 10.7% while platinum has moved exactly opposite, down 10.7%.
London Fix Precious Metals
London precious metals also moved higher on Friday and for the week. When comparing London bullion Fix prices from Thursday PM to Friday PM:
Gold added $13.75, or 1.2%, to $1,203.75 an ounce,
Silver gained a dime, or 0.6%, to $16.30 an ounce,
Platinum turned up $26, or 2.2%, to $1,230 an ounce, and
Palladium rose $24, or 3.1%, to $794 an ounce
Weekly increases logged in at 3% for gold, 6.2% for silver, 4.4% for platinum and 4.5% for palladium. Bullion rallied last Friday after the London precious metals had already been fixed, which accounts for the larger-than-typical variations in their gains this week as compared to futures in New York.
US Mint Bullion Coin Sales in November
United States Mint weekly bullion sales weakened for gold coins and resumed for silver coins. In the latest week-over-week bullion coin comparisons:
Gold coins added 6,500 ounces after soaring by 15,500 ounces in the previous week. (Sales in the first week of November were the the highest since January.) Splits this week were 3,500 ounces in American Gold Eagles compared to 13,500 ounces previously, and 3,000 ounces in American Gold Buffalos compared to 2,000 ounces previously.

Silver coins added 1,462,500 ounces. They were muted last week with the American Silver Eagle inventory depleted and sales of them resultantly suspended from Nov. 6 until Nov. 17. Splits this week totaled 1,429,500 ounces in American Silver Eagles and 33,000 ounces in America the Beautiful Five Ounce Silver Bullion Coins.
Below is a sales breakdown of U.S. Mint bullion products with columns listing the number of bullion coins sold on Friday, last week, this week, last month, in November and the year to date.
American Eagle and Buffalo Bullion Sales (# of coins)
Friday Sales
Last Week
Current Week
October Sales
November Sales
YTD Sales
$100 American Platinum Eagle Bullion Coins
N/A
400
N/A*
16,700
$50 American Eagle Bullion Gold Coins
0
10,000
2,500
57,500
41,500
395,000
$25 American Eagle Bullion Gold Coins
0
2,000
1,000
6,000
5,000
43,000
$10 American Eagle Bullion Gold Coins
0
4,000
2,000
8,000
10,000
110,000
$5 American Eagle Bullion Gold Coins
0
15,000
0
50,000
30,000
520,000
$50 American Buffalo Bullion Gold Coins
0
2,000
3,000
21,000
11,000
171,500
$1 American Eagle Silver Bullion Coins
54,000
0
1,429,500
5,790,000
2,689,500
40,810,500
Great Smoky Mountains National Park 5 Oz Silver Bullion Coins
0
0
0
0
0
33,000
Shenandoah National Park 5 Oz Silver Bullion Coins
200
0
500
900
900
23,300
Arches National Park 5 Oz Silver Bullion Coins
0
0
0
0
0
22,000
Great Sand Dunes 5 Oz Silver Bullion Coins
100
0
1,100
4,200
1,700
17,900
Everglades 5 Oz Silver Bullion Coins
0
0
5,000
N/A
27,000
27,000
*The U.S. Mint stopped selling bullion Platinum Eagles on Oct. 1. The agency will begin selling 2015-dated issues in early January.