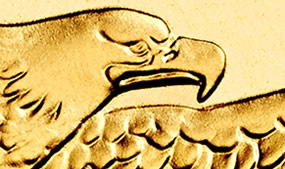 Gold rallied on Friday, advancing for the first time in eight sessions to reclaim most of the week's losses. And taking advantage of earlier cheaper prices, investors plowed cash into United States Mint bullion coins.
Gold for December delivery tacked on $27.20, or 2.4%, to settle at $1,169.80 an ounce on the Comex division of the New York Mercantile Exchange. The yellow metal reached as low as $1,130.40, its weakest price since April 2010.
"People expected a higher number, and we saw a knee-jerk reaction in the market with the dollar tumbling down and gold getting a bid," Michael Gayed, the chief investment strategist from Pension Partners LLC in New York, said in a telephone interview according to Bloomberg News. "The gold market is tracking the dollar and the Treasury market."
The Labor Department on Friday reported that the U.S. economy created 214,000 new jobs in October compared to the 230,000 or so economists were predicting.
Gold prices dipped 0.2% from a week ago, their third consecutive weekly decline. Prices are off 2.7% on the year to date.
Gold Outlook
Results of the latest Kitco News survey weighed bearish, again, for gold. Fourteen survey takers expect the yellow metal to fall next week, 6 see prices rising and 3 see prices trading sideways or are neutral. Kitco News reports:
"Survey participants who are bearish said the trend in gold remains lower despite Friday's rally… Those who see higher prices said the market could continue with the current rebound…"
Kitco gold survey results last week had splits of 14 down, 7 up, and 1 sideways.
Silver, Platinum and Palladium Futures
Snapping a three-session losing streak, silver for December delivery settled up 30 cents, or 2%, to $15.71 an ounce. Earlier in the day, the precious metal touched $15.04, its lowest price since February 2010. Silver prices tumbled 2.3% from a week ago. They have plunged 18.9% this year.
In PGM futures on Friday and for the week:
January platinum climbed $15.70, or 1.3%, to $1,212.80 an ounce, but declined 1.8% from a week ago.

Palladium for December delivery rallied $19.95, or 2.7%, to $772.55 an ounce, but shed 2.4% on the week.
On the year to date, platinum has fallen 11.7% while palladium has jumped 7.6%.
London Fix Precious Metals
London precious metals also advanced on Friday but declined on the week. When comparing London bullion Fix prices from Thursday PM to Friday PM:
Gold added $9.50, or 0.8%, to $1,154.50 an ounce,
Silver rose 14 cents, or 0.9%, to $15.42 an ounce,
Platinum gained $5, or 0.4%, to $1,198 an ounce, and
Palladium added $8, or 1.1%, to $763 an ounce
On the week, losses stacked to 0.8% for gold, 4.8% for silver, 2.4% for platinum and 2.7% for palladium.
US Mint Bullion Coin Sales in November
Gold coin weekly sales were the highest since mid-January when new 2014-dated American Gold Eagle and American Gold Buffalo coins ignited buying. Silver coin sales were on a tear until mid-week when the U.S. Mint announced that its Silver Eagles temporarily sold out. In the latest week-over-week bullion coin comparisons:
Gold coins added 38,500 ounces after rising 12,500 ounces in the previous week. Splits were 32,500 ounces in American Gold Eagles compared to 12,000 ounces previously, and 6,000 ounces in American Gold Buffalos compared to 500 ounces previously.

Silver coins gained 1,375,000 ounces after advancing 1,852,500 ounces a week earlier. Splits were 1,260,000 ounces in American Silver Eagles compared to 1,850,000 ounces previously, and 115,000 ounces in America the Beautiful Five Ounce Silver Bullion Coin compared to 2,500 ounces previously. ATB sales perked up with the release on Monday of the bullion Everglades 5 oz silver coin.
Below is a sales breakdown of U.S. Mint bullion products with columns listing the number of bullion coins sold on Friday, last week, this week, last month, and the year to date.
American Eagle and Buffalo Bullion Sales (# of coins)
Friday Sales
Last Week
Current Week
October Sales
YTD Sales
$100 American Platinum Eagle Bullion Coins
N/A*
400
16,700
$50 American Eagle Bullion Gold Coins
2,000
11,000
29,000
57,500
382,500
$25 American Eagle Bullion Gold Coins
0
0
2,000
6,000
40,000
$10 American Eagle Bullion Gold Coins
0
0
4,000
8,000
104,000
$5 American Eagle Bullion Gold Coins
0
10,000
15,000
50,000
505,000
$50 American Buffalo Bullion Gold Coins
0
500
6,000
21,000
166,500
$1 American Eagle Silver Bullion Coins
0
1,850,000
1,260,000
5,790,000
39,301,000
Great Smoky Mountains National Park 5 Oz Silver Bullion Coins
0
0
0
0
33,000
Shenandoah National Park 5 Oz Silver Bullion Coins
0
500
400
900
22,800
Arches National Park 5 Oz Silver Bullion Coins
0
0
0
0
22,000
Great Sand Dunes 5 Oz Silver Bullion Coins
0
0
600
4,200
16,800
Everglades 5 Oz Silver Bullion Coins
0
N/A
22,000
N/A
22,000
*The U.S. Mint stopped selling bullion Platinum Eagles on Oct. 1. The agency will begin selling 2015-dated issues in early January