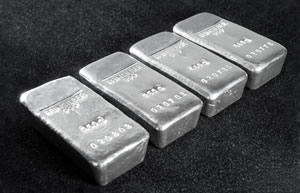 Gold and silver logged sharp losses on Friday, for the week, and in October as both metals touched lows not seen since 2010. Conversely, demand for United States Mint gold and silver coins soared for the month. Gold coin sales were the best since January 2014 and silver coin sales the highest since January 2013.
Gold for December delivery fell $27, or 2.3%, to settle at $1,171.60 an ounce on the Comex division of the New York Mercantile Exchange. Prices reached as low as $1,160.50, the weakest point since July 2010 according to Bloomberg News.
"Precious metals cratered, hit by a double-whammy of the rather hawkish Fed policy statement, coupled with a stronger-than-expected U.S. GDP report," Edward Meir, an analyst at INTL FCStone Inc., wrote in a note according to Bloomberg. "Gold is again confronting the specter of a stronger dollar, rising equity prices and tame inflation, a trifecta that does not bode well for price prospects going into 2015."
Gold lost 4.9% on the week, dropped 3.3% in October and is off on the year to date by 2.6%.
Gold Outlook
Results of the latest Kitco News gold survey are weighted much more bearish after two consecutive weeks of a slighter tilts downward. Fourteen survey takers expect the yellow metal to fall next week, 7 see prices rising and 1 sees prices trading sideways. Kitco News reports:
"The end of the Federal Reserve's asset-purchase program and gold's break through the $1,180-an-ounce support level on Friday has the majority of participants in the Kitco News weekly Gold Survey seeing weaker prices next week… Those who see higher prices said given the sharp sell-off, gold might try to find some support for a slight rise next week."
Kitco gold survey results last week had splits of 9 down, 6 up, and 6 sideways or neutral.
Silver, Platinum and Palladium Futures
Silver for December delivery shed 31 cents, or 1.9%, to $16.11 an ounce. Prices earlier in the day touched $15.64, the lowest price since February 2010. The white metal plunged 6.3% from a week ago and gave up 5.6% in October. It is 16.9% lower on the year to date.
In PGM future prices on Friday and for the week:
January platinum declined $10.70, or 0.9%, to $1,235.20 an ounce, falling 1.3% on the week.

Palladium for December delivery climbed $11.10, or 1.4%, to $791.80 an ounce. It advanced 1.4% from a week ago.
In October, platinum fell 5% while palladium jumped 2.2%. For the year so far, platinum has dived 10.1% but palladium has surged 10.2%.
London Fix Precious Metals
Earlier fixed London precious metals were flat to lower on the day. When comparing London bullion Fix prices from Thursday PM to Friday PM:
Gold dropped $37.75, or 3.1%, to $1,164.25 an ounce,
Silver fell 58 cents, or 3.5%, at $16.20 an ounce,
Platinum lost $16, or 1.3%, to $1,227 an ounce, and
Palladium was unchanged at $784 an ounce
For the week, palladium was also flat while other London metals precious registered losses of 5.6% for gold, 5.8% for silver, and 2.2 for platinum. In October, palladium gained 1.2% while other metals logged declines of 4.3% for gold, 5.3% for silver, and 5.6% for platinum.
US Mint Bullion Coin Sales in October
U.S. Mint bullion sales are yet to close officially for October, though they are not expected to change. CoinNews.net will publish a more detailed analysis later, but in summary:
American Eagle gold coins rallied 67,500 ounces in October after sales of 58,000 ounces in September. The monthly amount is the second highest this year, behind sales of 91,500 ounces in January when the 2014-dated versions debuted. 2014 sales now total 446,500 ounces, still well below the 752,500 ounces sold during the first ten months of 2013.

2014 American Eagle silver coins shot up 5,790,000 in October after the prior month's pick up of 4,140,000. The amount is the most for a month this year, though sales in January were allocated which held its total down. Silver Eagle sales for the year to date are at 38,041,000, the second quickest pace in the coin's 29-year history. Silver Eagle sales in record year 2013 hit 39,175,000 through October 2013.

American Buffalo gold coins surged 21,000 in October after rising 14,500 in September. The monthly total was the most since the January tally of 41,500.

2014 America the Beautiful Five Ounce Silver Bullion Coins added 5,100 in October after rising 9,800 in September. No new releases debuted this month. The Everglades National Park five-ounce silver coin launches on Monday, Nov. 3.

American Platinum Eagle coins rose 400 in October following an increase of 2,700 in September. Sales this month were stunted since the Mint stopped selling the coin on Oct. 1. Sales for 2014 ended at 16,700 coins. The Mint will begin selling 2015-dated Platinum Eagles in early January.
Below is a sales breakdown of U.S. Mint bullion products with columns listing the number of bullion coins sold on Friday, last week, this week, last month, in October, and the year to date.
American Eagle and Buffalo Bullion Sales (# of coins)
Friday Sales
Last Week
Current Week
September Sales
October Sales
YTD Sales
$100 American Platinum Eagle Bullion Coins
N/A
2,700
400
16,700
$50 American Eagle Bullion Gold Coins
7,000
11,500
11,000
50,500
57,500
353,500
$25 American Eagle Bullion Gold Coins
0
1,000
0
6,000
6,000
38,000
$10 American Eagle Bullion Gold Coins
0
0
0
8,000
8,000
100,000
$5 American Eagle Bullion Gold Coins
10,000
10,000
10,000
30,000
50,000
490,000
$50 American Buffalo Bullion Gold Coins
0
3,500
500
14,500
21,000
160,500
$1 American Eagle Silver Bullion Coins
1,425,000
840,000
1,850,000
4,140,000
5,790,000
38,041,000
Great Smoky Mountains National Park 5 Oz Silver Bullion Coins
0
0
0
3,500
0
33,000
Shenandoah National Park 5 Oz Silver Bullion Coins
500
400
500
1,000
900
22,400
Arches National Park 5 Oz Silver Bullion Coins
0
0
0
800
0
22,000
Great Sand Dunes 5 Oz Silver Bullion Coins
0
1,400
0
4,500
4,200
16,200