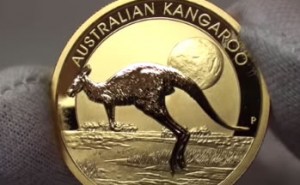 Australian sales of gold and silver was strong to soaring in September, according to newly released figures from the Perth Mint.
As investors took advantage of bargains due to diving gold and silver prices, they were also quicker to spend to get 2015 Australian Kangaroo Gold Bullion Coins. Citing high demand and low 2014 inventory, the Perth Mint released the 2015-dated gold coins on Sept. 15 instead of on the originally scheduled date of Oct. 6.
Bullion Sales in September
September sales of Perth Mint gold coins and gold bars sprinted to 68,781 ounces, the most since October 2013 when 77,255 ounces moved. Last month's tally marks an 89.1% increase over August sales of 36,369 ounces and a 0.4% improvement from a year earlier when buyers snapped up 68,488 ounces.
Sales of Perth Mint silver coins at 756,839 ounces in September dropped 7.6% from 818,856 ounces in August and declined 21.3% from 961,977 ounces in the same period last year, but the level is higher than six of seven prior months.
Perth Mint Gold and Silver Sales by Month
Below is a monthly breakdown of Perth Mint bullion sales from September 2013 to September 2014.
Perth Mint Bullion Sales (in troy ounces)
Silver
Gold
September 2014
756,839
68,781
August 2014
818,856
36,369
July 2014
577,988
25,103
June 2014
586,358
39,405
May 2014
630,349
36,127
April 2014
361,988
23,461
March 2014
545,165
30,177
February 2014
392,088
47,003
January 2014
912,388
64,818
December 2013
845,941
58,944
November 2013
807,246
52,700
October 2013
821,580
77,255
September 2013
961,977
68,488
Year-to-date sales are at 371,244 ounces for gold and 5,582,019 ounces for silver.
Before turning to U.S. coin sales, here's a Perth Mint video showing a new 2015 Australian Kangaroo Gold Bullion Coin.
U.S. Mint Bullion Sales in September
U.S. Mint coin sales soared in September. American Silver Eagle sales at 4.14 million ounces surged 106.2% from the prior month and jumped 37.4% from the same period last year. The month was the ninth highest in the coin's 29-year history.
September sales of 2014 America the Beautiful Five Ounce Silver Bullion Coins rose 6.5% from the previous month but slipped 57.2% from September 2013.
American Gold Eagle sales at 58,000 ounces in September were the highest since January, up 132% from August and 346.2% more than the same time last year.
Finally, U.S. Mint sales of its American Buffalo gold coins at 14,500 ounces was 81.3% higher than the prior month and 45% better than September 2013.