Thirty-one design candidates for the 2015-W and 2016-W Proof American Platinum Eagle coins have been unveiled by the United States Mint and reviewed by the Citizens Coinage Advisory Committee (CCAC) and Commission of Fine Arts (CFA).
Issued since 1997, the one-ounce 99.95% fine platinum proof series has always featured an obverse of Lady Liberty looking toward the future, as designed by John Mercanti. The reverse has changed annually, and the CFA and CCA has differing opinions on what designs are best for 2015 and 2016.
Noting that the series already features an allegorical figure of Lady Liberty, the CFA in their Sept. 18 meeting liked designs AEP-R-09 for year 2015 and AEP-R-22 for year 2016. For the latter design, the Commission suggested better positioning of the bald eagle's legs and to consider replacing the cluster of arrows with wheat stalks. Here are images of the CFA selections:
The CCAC offered up their recommendations on Sept. 24. Early into the selection process, many members were excited about design AEP-R-17 which shows a male figure holding a sword in defense of American liberties. Before comments could progress into later stages, however, the U.S. Mint withdrew the design from consideration.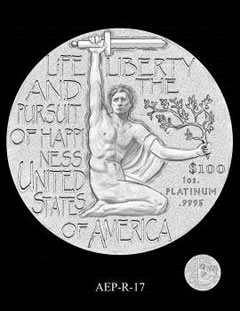 As to the reason, Mint spokesman Michael White told CoinNews:
"Upon further consideration by Mint technical staff at the meeting, it was determined that the lettering on the design could not be executed in platinum, due to the hardness of the metal."
CCAC members went on to select designs AEP-R-06 for year 2015 and AEP-R-07 for year 2016. Several suggestions were made for the first design, to include taking out the inner border, removing the small bowl or "patera" Lady Liberty has in hand, re-orientating the globe to show North America, and having the eagle make visual contact with Liberty. For the second design, the CCAC passed a motion recommending the removal of the branch held by the bald eagle. Here are images of the CCAC selections:
The Treasury Secretary is tasked with approving the eventual two selections.
Design Candidates for 2015 and 2016 American Platinum Eagle
All 31 reverse candidate designs are shown below, ordered by number. Also included are brief narratives for each as provided by the United States Mint.
| | |
| --- | --- |
| Design Candidate AEP-R-01 | Design Candidate AEP-R-02 |
AEP-R-01 (Freedom to Achieve) depicts a young girl reading. The book itself is ambiguous — it might be a literary novel or an astrophysics dissertation. This young girl has the freedom of self-determination and the freedom to achieve all to which she aspires.
The companion design is AEP-R-02 (Liberty Nurtures Freedom). This design depicts Liberty kneeling to inspect a branch of an olive tree. She extends her left hand to a dove, a symbol of peace. A quiver of arrows, a symbol for defense of freedom, lies at her feet. While encouraging and fostering peace, she remains ready to fight to preserve it.
| | |
| --- | --- |
| Design Candidate AEP-R-03 | Design Candidate AEP-R-04 |
| Design Candidate AEP-R-05 | Design Candidate AEP-R-06 |
AEP-R-03, AEP-R-04, AEP-R-05 and AEP-R-06 depicts Liberty and an American bald eagle representing Freedom. In designs 03, 04, and 05, Liberty encourages the eagle to take flight as an ambassador of democracy. Design 06, a companion design to the previous three, shows Liberty continuing to nurture and sustain Freedom.
| | |
| --- | --- |
| Design Candidate AEP-R-07 | Design Candidate AEP-R-08 |
AEP-R-07 and AEP-R-08 depicts Liberty with flowing hair and robe waving in the winds of freedom. She holds a torch of enlightenment in her right hand and an olive branch in her left to symbolize peace. Thirteen olives are included on the olive branch to represent the 13 original colonies. Design 07 includes a bald eagle with its wings outstretched, representing its boundless spirit, as it clutches an olive branch in its talons. Design 08 incorporates 13 stars into the composition.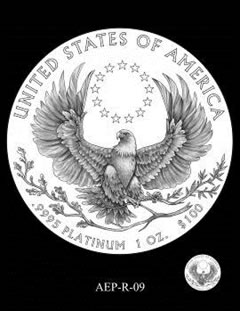 AEP-R-09, depicts a bald eagle grasping an olive branch in its talons to symbolize peace. The eagle's wings are outstretched to represent its boundless spirit of freedom. The stars in a circle above the eagle's head represent the 13 original colonies.
| | |
| --- | --- |
| Design Candidate AEP-R-10 | Design Candidate AEP-R-11 |
AEP-R-10 (My Country Tis of Thee) and its companion design, AEP-R-11 (Let Freedom Ring) celebrate the patriotic spirit and pride of our nation's youngest citizens. For generations, one of the first patriotic songs American children learn to sing is America. Design 10 depicts three grade-school children singing the song's opening phrase, "My country 'tis of thee." To convey the rhythm, the musical staff flows from left to right and features the six notes that correspond to the phrase.
Design 11 portrays a dual image of the Liberty Bell — how it appears today housed in the Liberty Bell Center and how it may have looked on July 8, 1776, when, according to tradition, it rang to summon the citizens of Philadelphia to hear the first public reading of the Declaration of Independence. The five dancing musical notes correspond to the song's closing phrase, "Let Freedom Ring."
| | |
| --- | --- |
| Design Candidate AEP-R-12 | Design Candidate AEP-R-13 |
AEP-R-12 (Liberty and the American Dream) depicts an allegorical female falconer releasing an eagle into the sky, representing Liberty and the American dream of opportunity. In mythological symbolism, the hunt represents the game of life, a search for success and opportunity, which is not possible without Liberty and Freedom. In this design the female figure wears a wreath of olive leaves and carries a quiver of arrows. She also wears a mantle with 13 stripes to represent the original 13 colonies that formed the United States.
AEP-R-13 (American Opportunity) depicts an outstretched hand "reaching for the stars" to represent the United States as a "Land of Opportunity." The design features three stars symbolizing Life, Liberty, and the Pursuit of Happiness. The stars are shown not as typical five-pointed stars, but as more complex stars that shine brightly in the night sky.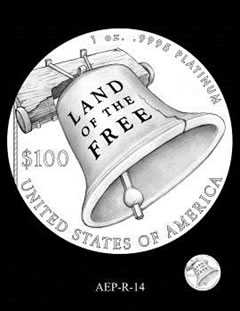 AEP-R-14 (Land of the Free) pays homage to the freedoms Americans enjoy by featuring the Liberty Bell — an enduring symbol of freedom, rung to tell the world that 13 colonies had declared their independence from Great Britain. The bell is drawn at a tilt in the process of ringing, a symbol of freedom in action. The words "LAND OF THE FREE" are incused on the bell, encircling its cylinder.
| | |
| --- | --- |
| Design Candidate AEP-R-15 | Design Candidate AEP-R-16 |
AEP-R-15 (Liberty as America's Strength) depicts Liberty cradling fasces to represent unity, while waving the flag and boldly moving forward.
Its companion, AEP-R-16, shows Liberty shining a torch over various symbols of what makes America great: our unity (fasces), our love of peace (olive branch), and our tradition (classical architectural elements).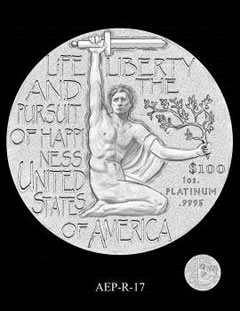 AEP-R-17 features a male figure holding a sword in defense of our Liberties while offering an olive branch of peace to the world. Additional inscription of "Life, Liberty, and the Pursuit of Happiness" is included.
| | |
| --- | --- |
| Design Candidate AEP-R-18 | Design Candidate AEP-R-19 |
AEP-R-18 Foundation of our Country) depicts Lady Liberty sitting proudly on a classical capital while protecting the fruits of our labor.
Its companion, AEP-R-19 (America's Future), shows Lady Liberty protecting a child who holds the Declaration of Independence.
| | |
| --- | --- |
| Design Candidate AEP-R-20 | Design Candidate AEP-R-21 |
AEP-R-20 (Land of Opportunity) depicts a city, a house, and a farm, representing different parts of the American landscape as well as different people's ideas of the American dream. The design includes the inscription, "Land of Opportunity," an American flag, and a soaring eagle to symbolize freedom.
The companion design, AEP-R-21 (Opportunity), also includes an apple tree branch bearing fruit as a symbol of opportunity.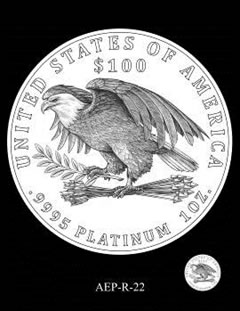 AEP-R-22 features an American Bald Eagle, a symbol of strength and freedom. The eagle is depicted in the heraldic tradition with an olive branch clutched in its right talon to symbolize peace and thirteen arrows in its left talon to symbolize strength and the ability to protect.
| | |
| --- | --- |
| Design Candidate AEP-R-23 | Design Candidate AEP-R-24 |
AEP-R-23 depicts Libertas, the Goddess of Freedom holding the American flag. She is wearing a crown of olives, symbolizing peace and victory. The American bald eagle, seen in the background landing on a wild olive branch, is a symbol of freedom, power and independence.
AEP-R-24 (Freedom) depicts Freedom, holding the implements of self-protection: a sword for defense and a shield representing the Constitution of the United States. Held in the same hand is a victor's wreath.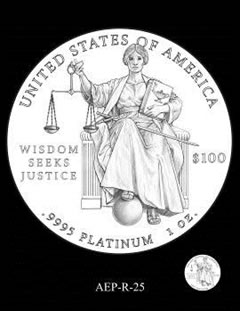 AEP-R-25 (Wisdom Seeks Justice) depicts Wisdom on the seat of justice, holding a book of knowledge and balanced scales, which represent equality. She is not blind, but sees all and considers all in her judgment. The sword of justice lies across her lap. Her foot rests on a sphere representing the globe.
| | |
| --- | --- |
| Design Candidate AEP-R-26 | Design Candidate AEP-R-27 |
AEP-R-26 (Liberty Reading to Her Children) depicts an allegory of Lady Liberty reading to children. This design's concept emerges from American values regarding education, family, and freedom of speech. It suggests the importance of teaching the rising generation about our founding principles, including life, liberty, justice, and the rule of law.
The companion design, AEP-R-27 (Liberty as a Child Reading), also underscores the importance of education and features Lady Liberty as a very young girl reading a book.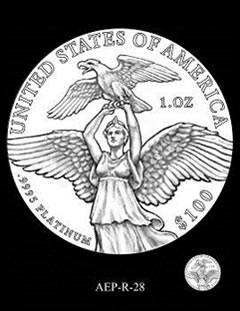 AEP-R-28 features an allegory of Victory holding an eagle aloft, which appeared as a figurehead on the breastwork of the flagship USS Olympia in 1898 after the Spanish American War.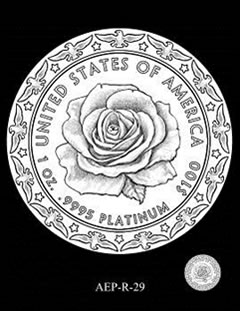 AEP-R-29 features a rose, America's national floral emblem since 1986. A repeating border of 13 eagles and 13 stars circles the design as symbols of the 13 colonies.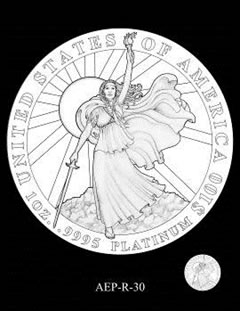 AEP-R-30 depicts Liberty stepping forward, her back to the rising sun with 13 rays for the original colonies. She carries a sword in her right hand to signify vigilance against oppression and raises her torch in her left hand as a beacon of hope and freedom.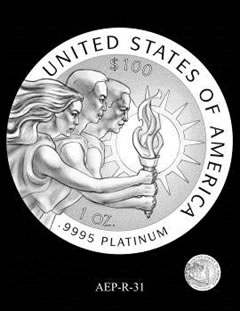 AEP-R-31 depicts three figures holding a torch in unity, symbolizing a diverse American society moving confidently into the future with its path lit by the torch of liberty.