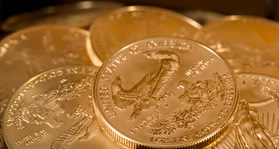 Gold settled at its lowest price this year and logged its third straight weekly decline. Other precious metals also dropped on the day and week.
Conversely, physical demand for gold and silver surged. United States Mint weekly bullion sales were the highest in more than four months for silver coins and the best for gold coins since the 2014-dated versions launched in early January. More on coin sales later…
Gold for December delivery declined $10.30, or 0.8%, to settle at $1,216.60 an ounce on the Comex division of the New York Mercantile Exchange.
"It's the same story since last week. Gold is under pressure with the dollar at an extremely lofty level, U.S. equities at all-time high, and expectations that U.S. interest rates will rise eventually," Reuters quoted David Meger, director of metals trading at brokerage Vision Financial.
Marking a 1.2% weekly decline, gold's settlement price is the lowest since the most active contract closed last year at $1,202.30 an ounce. Its gain on the year was trimmed to 1.2%.
Gold Outlook
For a second straight week, most participants in the latest Kitco News survey are bearish for gold next week. Thirteen of the survey takers expect prices to decline, 7 see higher prices and 4 see the yellow metal trading sideways or are neutral. Kitco News reports:
"Participants who see weaker prices said there are few bullish factors out there to support gold, suggesting the path to least resistance is lower… A few bulls said they think gold is due a bounce after printing eight-month lows this week… Those who are neutral said gold may take a pause to consolidate the recent losses suffered in September."
Kitco gold survey results last week had splits of 18 down, 5 up, and 1 sideways.
Silver, Platinum and Palladium Futures
Silver for December delivery plunged 68 cents, or 3.7%, to end at $17.84 an ounce. The precious metal had a string of four session gains until slipping from the edge on Thursday. Silver tumbled 4.1% from a week ago, pulling prices 7.9% lower on the year.
In PGM futures on Friday and for the week:
October platinum shed $12.20, or 0.9%, to $1,337.30 an ounce, falling 2.4% from a week ago.

Palladium for December delivery plummeted $19.05, or 2.3%, to $812.60 an ounce, dropping 2.8% on the week.
Year-to-date, platinum is off 2.7% while palladium is up 13.1%.
London Fix Precious Metals
London precious metals were nearly flat to unchanged on Friday, and down for the week. When comparing London bullion Fix prices and the LBMA Silver Price from Thursday PM to Friday PM:
Gold dipped 75 cents to $1,219.75 an ounce,
Silver shed 5 cents, or 0.3%, to $18.45,
Platinum was unchanged at $1,344 an ounce, and
Palladium added $1, or 0.1%, to $823 an ounce
Weekly results settled to losses of 1.2% for platinum, 0.7% for palladium, and 1% for both gold and silver.
US Mint Bullion Coin Sales
U.S. Mint bullion sales this week compared to last nearly tripled for gold coins and almost doubled for silver coins. More telling to demand, silver coin sales were the highest since the week ended May 9 and gold coin sales were the highest since the week ended Jan 10. In the latest week-over-week comparisons:
Gold coin sales rallied 20,500 ounces after logging 7,000 ounces in the previous week. Splits were 16,500 ounces in American Gold Eagles compared to 6,000 ounces previously, and 4,000 ounces in American Gold Buffalos compared to 1,000 ounces previously.

Silver coin sales soared 962,500 ounces after rising 487,500 ounces in the prior week. Splits were 950,000 ounces in American Silver Eagles compared to 470,000 ounces previously, and 12,500 ounces in America the Beautiful Five Ounce Silver Bullion Coin compared to 17,500 ounces previously.

American Platinum Eagles rose 200 after the previous increase of 100. The coins are now in their 25th full week of release after a five-year hiatus.
Below is a sales breakdown of U.S. Mint bullion products with columns listing the number of bullion coins sold on Friday, last week, this week, last month, this month so far, and the year to date.
American Eagle and Buffalo Bullion Sales (# of coins)
Friday Sales
Last Week
Current Week
August Sales
September Sales
YTD Sales
$100 American Platinum Eagle Bullion Coins
0
100
200
700
400
14,000
$50 American Eagle Bullion Gold Coins
2,000
5,500
15,500
21,000
34,500
280,000
$25 American Eagle Bullion Gold Coins
0
1,000
0
0
5,000
32,000
$10 American Eagle Bullion Gold Coins
0
0
2,000
6,000
4,000
88,000
$5 American Eagle Bullion Gold Coins
0
0
5,000
25,000
15,000
425,000
$50 American Buffalo Bullion Gold Coins
500
1,000
4,000
8,000
8,000
133,000
$1 American Eagle Silver Bullion Coins
100,000
470,000
950,000
2,007,500
1,760,000
29,871,000
Great Smoky Mountains National Park 5 Oz Silver Bullion Coins
0
500
1,500
0
2,000
31,500
Shenandoah National Park 5 Oz Silver Bullion Coins
0
500
0
500
500
21,000
Arches National Park 5 Oz Silver Bullion Coins
0
0
500
1,200
500
21,700
Great Sand Dunes 5 Oz Silver Bullion Coins
0
2,500
500
7,500
3,000
10,500
To see how inflation has changed the buying power of the U.S. dollar over time, use this site's Inflation Calculator.