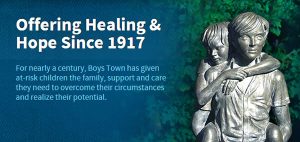 Commemorative coins celebrating the 100th anniversary of Boys Town are a step closer to reality with the House's passage on Monday, Sept. 15, of the Boys Town Centennial Commemorative Coin Act, H.R. 2866.
If the legislation is approved in the Senate and signed by the President, the United States Mint will produce and sell up to 50,000 $5 gold coins, 350,000 silver dollars, and 300,000 clad half-dollars that are emblematic of the 100 years of Boys Town.
Boys Town is a nonprofit organization dedicated to saving children and healing families, nationally headquartered in the village of Boys Town, Nebraska. It was founded by Father Edward Joseph Flanagan on Dec. 12, 1917.
"In 1917, a young Irish priest named Father Edward J. Flanagan grew discouraged in his work with homeless men in Omaha, Nebraska. He shifted his attention and in December of that year, borrowed $90 to pay the rent on a boarding house that became Father Flanagan's Home for Boys," describes Boys Town. "Flanagan welcomed all boys, regardless of their race or religion. By the spring, 100 boys were living at the Home."
Boys Town has since grown exponentially, impacting the lives of more than 2 million children and families across America each year.
Introduced by Rep. Lee Terry of Nebraska on July 30, 2013 and garnering 293 cosponsors, H.R. 2866 calls for commemorative coins in collectible qualities of proof and uncirculated to be struck and sold during calendar year 2017.
When Terry urged for the bill's passage on the House floor, he invoked the organization's slogan, "He ain't heavy… he's my brother," which is inscribed on the iconic Boys Town statue showing a boy on the shoulder of another. "That's the Boys Town way… full of compassion to help our fellow man," Terry said.
The coins would include added surcharges of $35 per gold coin, $10 per silver dollar, and $5 per half-dollar. Collected funds would be paid to Boys Town to carry out its mission of caring for and assisting children and families in underserved communities across America.
H.R. 2866 was received in the Senate on Tuesday, Sept. 16, and has been referred to the Committee on Banking, Housing, and Urban Affairs.
Congress can authorize a maximum of two commemorative coin programs each year. One has already been approved for 2017 to celebrate the centennial founding of Lions Clubs International.