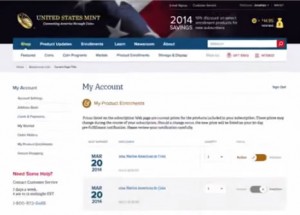 Implementation of a new United States Mint Order Management System will result in shipping delays for some customers in the next few weeks.
The delays are a required part of the migration process in converting to a new retail solution that, when fully implemented, is expected to address deficiencies realized in current operations.
"The United States Mint is launching a new retail solution for selling its coin and medal products (numismatics)," indicated Michael White, Office of Corporate Communications, United States Mint. "The new system includes a modernized retail website (eCommerce platform), a new Order Management System, enhanced Customer Contact Center and fulfillment operations, related information technology solutions, and support for robust interactive marketing strategies."
To make the transition to the new fulfillment operations, the U.S. Mint has provided these key dates for customers:
September 12 – a new return label for PFSweb will be included with all packing slips for products shipped after this date. PFSweb is the Mint's prime contractor for the project.
September 19 – all expedited orders must be placed by this day. All orders placed after the 19th will not ship until October 1st.
September 23 – last day for order shipments until October 1.
October 1 – resumption of normal ordering procedures and delivery times under the new solution.
The new Order Management System, along with the other retail solution initiatives, is expected to enhance customer experiences. Most of the changes will be behind the scenes, but others will be readily apparent.
US Mint Video – Previewing U.S. Mint Shopping Website
This includes a new website designed to better handle peak demand periods, eliminating the need for an online waiting room. Prior product releases actually brought down the U.S. Mint's website. As a result, the Mint created a waiting room option to queue customers before allowing them to order.