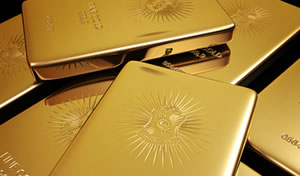 Gold prices on Friday retreated from their previous session increase but still logged modest gains on the week and month.
Gold for December delivery shed $3, or 0.2%, to settle at $1,287.40 an ounce on the Comex division of the New York Mercantile Exchange. Excluding a haven-driven spike on Thursday, recent trading activity for the precious metal has been sluggish and its daily changes slight.
"It's the summer season and it's normally very quiet. Dollar-priced gold is also increasing. I can't see buying or selling at the moment," Reuters quoted a physical dealer in Tokyo.
Gold prices advanced 0.6% on the week and gained 0.4% in August. Gold has advanced $85.10, or 7.1%, since ending 2013 at $1,202.30 an ounce.
Gold Outlook
Participants in the latest Kitco News survey are mixed about gold prices next week. Nine expect them to climb, 6 see them lower, and 7 see them trading sideways or are neutral. Kitco News reports that:
"Those who see higher prices said they believe the geopolitical news will give gold support… Yet bears say the geopolitical impact on gold has only fleeting impact and other factors may eventually weigh on gold… Several market watchers said gold will continue to hold in its range…"
Kitco gold survey results last week were bearish with expectation splits of 12 down, 8 up, and 3 sideways or neutral.
Silver, Platinum and Palladium Futures
Silver on Friday dropped for the first time in four sessions. Prices advanced 0.6% on the week yet tumbled 4.5% in August.
On Friday, silver for December delivery turned down 12 cents, or 0.6%, to $19.49 an ounce. The daily increase also marks how much silver has advanced on the year to date.
In PGM future prices on Friday and for the week:
October platinum edged down 50 cents to $1,424.70 an ounce. It climbed 0.4% from a week ago.

Palladium for December delivery rose $11.45, or 1.3%, to $909.55 an ounce, gaining 2.5% on the week.
In August, platinum fell 2.8% while palladium surged 4.1%. For the year so far, platinum has tacked on 3.7% and palladium has soared 26.6%.
London Fix Precious Metals
London precious metals mostly declined Friday, and were mixed on the week and month. When comparing London bullion Fix prices and the LBMA Silver Price from Thursday PM to Friday PM:
Gold shed $6.25, or 0.5%, to $1,285.75 an ounce,
Silver declined 28 cents, or 1.4%, to $19.47,
Platinum lost $4, or 0.3%, to $1,424 an ounce, and
Palladium was unchanged at $898 an ounce
For the week, silver slipped 0.1% while other metals registered advances of 0.7% for gold, 0.6% for platinum, and 1.7% for palladium. In August, gold was almost flat with its pick up of 50 cents. Palladium jumped 2%. Silver and platinum logged declines of 5.9% and 3.3%.
US Mint Bullion Sales in August
August is usually a slower month for bullion coin demand. Sales were mixed compared to July with silver coin sales slightly better and gold coin sales lower. U.S. Mint bullion sales are yet to officially close for the month, although figures are not expected to change. CoinNews.net will publish a more detailed analysis later, but in summary:
American Eagle gold coins gained 25,000 ounces in August after sales of 30,000 ounces in July. The monthly amount is the second lowest this year, behind sales of 21,000 ounces in March. 2014 sales now total 321,000 ounces, well lower than the 691,000 ounces sold during the first eight months of 2013.

2014 American Eagle silver coins advanced 2,007,000 in August following the prior month's rise of 1,975,000, the first sub-2 million month since December when the 2013-dated Silver Eagles sold out on Dec. 10. Sales have been sharply slower since June following several record-pace months. Silver Eagle sales for the year are at 28,111,500 dropped to the third quickest pace in the coin's 29-year history. Silver Eagle sales in record year 2013 hurdled 33 million through August 2013. In 2011, now the second quickest year, they were at 28.951 million by the end of August.

American Buffalo gold coins rose 8,000 for the month versus 5,500 in July, which was the weakest month since sales of 4,000 coins in July 2012.

2014 America the Beautiful Five Ounce Silver Bullion Coins added 9,200 in August after rising 2,000 in July. Most sales were from the new coin honoring Great Sands Dune National Park in Utah.

American Platinum Eagle coins gained 700 in August following a flat reading in July. The platinum coin is in its 22nd full week of release following a five-year hiatus.
Below is a sales breakdown of U.S. Mint bullion products with columns listing the number of bullion coins sold last week, this week, last month, in August, and the year to date.
American Eagle and Buffalo Bullion Sales (# of coins)
Friday Sales
Sales Last Week
Current Sales Week
July Sales
August Sales
YTD Sales
$100 American Platinum Eagle Bullion Coins
0
300
0
0
700
13,600
$50 American Eagle Bullion Gold Coins
0
3,000
5,000
26,000
21,000
245,500
$25 American Eagle Bullion Gold Coins
0
0
0
0
0
27,000
$10 American Eagle Bullion Gold Coins
0
0
4,000
6,000
6,000
84,000
$5 American Eagle Bullion Gold Coins
0
5,000
0
25,000
25,000
410,000
$50 American Buffalo Bullion Gold Coins
0
2,000
1,500
5,500
8,000
125,000
$1 American Eagle Silver Bullion Coins
0
430,000
397,500
1,975,000
2,007,500
28,111,000
Great Smoky Mountains National Park 5 Oz Silver Bullion Coins
0
0
0
500
0
29,500
Shenandoah National Park 5 Oz Silver Bullion Coins
0
0
500
0
500
20,500
Arches National Park 5 Oz Silver Bullion Coins
0
0
1,200
1,500
1,200
21,200
Great Sand Dunes 5 Oz Silver Bullion Coins
0
N/A
7,500
N/A
7,500
7,500