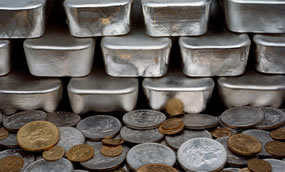 Precious metals futures ended mixed on Friday, for the week, and in the month of August. Palladium stood out with sharp gains on the week and month. Gold posted declines for both, while stretching its string of monthly losses to five in a row.
Gold for December delivery on Friday rose $1.70, or 0.1%, to settle at $1,206.70 an ounce on the Comex division of the New York Mercantile Exchange.
"The problem for gold bulls is that while inflation remains contained around the world and there's no driver there for people to buy gold, that strengthening U.S. dollar will be a key factor," Bloomberg News quoted Michael McCarthy, chief market strategist at CMC Markets in Sydney. 
Gold futures edged 0.5% lower this week after surging 2.5% last week. The yellow metal has fallen in three of the last four weeks, registering a 2.2% loss in August — its fifth straight monthly decline. Gold prices are 7.8% lower on the year to date.
In looking ahead to next week, Kitco News offers the following forecasts via their Wall Street & Main Street surveys:
"Eighteen market professionals took part in the Wall Street survey. Nine respondents, or 50%, called for higher prices, while four, or 22%, said lower. Five respondents, or 28%, predicted a sideways market.

Meanwhile, 608 people responded to an online poll. A total of 289 respondents, or 48%, called for gold to rise. Another 222, or 37%, predicted gold would fall. The remaining 97, or 16%, see a sideways market."
Elsewhere on Friday, silver for December delivery declined 3.7 cents, or 0.3%, to settle at $14.557 an ounce. Silver futures moved 1.6% lower this week after rising 1.1% last week when they snapped a losing streak that had extended to ten weeks in which prices fell by a combined 12.6%.
Silver posted an August loss of 6.4% and is 15.1% lower on the year so far.
In PGM futures on Friday, for the week, and in August:
October platinum fell $4.70, or 0.6%, to $787.10 an ounce, for losses of 0.3% on the week and 6.9% on the month.

Ending higher for a third straight session, palladium for December delivery rose $9.20, or 1%, to $969.90 an ounce, for advances of 4.5% on the week and 4.1% on the month.
Both are down on the year to date with losses of 16.1% for platinum and 8.6% for palladium.
London Precious Metals Prices
London precious metals prices ended divided Friday and higher for the week. In comparing their levels from Thursday PM to Friday PM:
Gold rose $5.15, or 0.4%, to 1,202.45 an ounce.
Silver dipped a penny, or less than 0.1%, to $14.655 an ounce.
Platinum was unchanged at $792 an ounce.
Palladium shed $1, or 0.1%, to $979 an ounce.
In LBMA results for the week, prices increased 0.4% for gold, 0.2% for silver, 0.8% for platinum, and 5% for palladium.
As for August, prices for palladium rallied 5.5% while the others marked losses that reached 1.5% for gold, 5% for silver, and 4.7% for platinum.
US Mint Bullion Sales in 2018
Demand for United States Mint bullion products was mixed in August from July — stronger for silver coins but weaker for gold coins — and down overall from a year ago. In headline comparisons:
American Eagle gold coins totaled 21,500 ounces in August, dropping 38.6% from the 35,000 ounces moved in July yet jumping 126.3% from the 9,500 ounces sold in August 2017. Year to date sales at 177,000 ounces are 19.7% lower than the 220,500 ounces delivered during the same time in 2017.

American Eagle silver coins reached 1.53 million ounces — the most for a month since January, posting gains of 72.9% from 885,000 ounces in July and 49.3% from 1,025,000 ounces in August of last year. 2018 Silver Eagle sales at 9,237,500 are down 40.7% from the 15,578,500 sold through the first eight months of last year.

American Buffalo gold coins increased by 20,000 ounces in August, sliding 18.4% from 24,500 ounces in July but jumping 566.7% from 3,000 ounces in August 2017. Year to date sales at 98,000 ounces are 30.7% higher than the 75,000 ounces moved during the same months in 2017.

America the Beautiful Five Ounce Silver Bullion Coin sales were muted in August as this year's fourth issue, honoring Cumberland Island, will not launch until later in September. Sales for the year so far are at 450,000 ounces are 21.4% lower than the 572,500 ounces sold through the first eight months in 2017 — though four coins had been issued by this time last year.

American Eagle platinum coins reached 20,000 ounces in their February release month, matching annual sales in years 2016 and 2017. The U.S. Mint sold another 10,000 ounces in May for a total of 30,000 ounces. No platinum coins have sold since May.
Below is a sales breakdown of U.S. Mint bullion products with columns listing the number of coins sold during varying periods.
US Mint Bullion Sales (# of coins)
Friday
Last Week
This Week
July
August
2018 Sales
$100 American Eagle 1 Oz Platinum Coin
0
0
0
0
0
30,000
$50 American Eagle 1 Oz Gold Coin
0
3,000
4,000
31,500
17,500
136,500
$25 American Eagle 1/2 Oz Gold Coin
0
1,000
2,000
1,000
4,000
22,000
$10 American Eagle 1/4 Oz Gold Coin
0
0
2,000
2,000
4,000
54,000
$5 American Eagle 1/10 Oz Gold Coin
0
0
5,000
25,000
10,000
160,000
$50 American Buffalo 1 Oz Gold Coin
0
0
2,000
24,500
20,000
98,000
$1 American Eagle 1 Oz Silver Coin
0
225,000
350,000
885,000
1,530,000
9,237,500
Pictured Rocks 5 Oz Silver Coin
0
0
0
0
0
30,000
Apostle Islands 5 Oz Silver Coin
0
0
0
0
0
30,000
Voyageurs 5 Oz Silver Coin
0
0
0
0
0
30,000