New from the Perth Mint of Australia is the 2014 Gloria Scott 1 Oz Silver Proof Coin, the fifth issue in the Famous Ships That Never Sailed series. This program of silver coins is dedicated to "legendary tall ships bound in the pages of literature and the classical arts," the Perth Mint describes.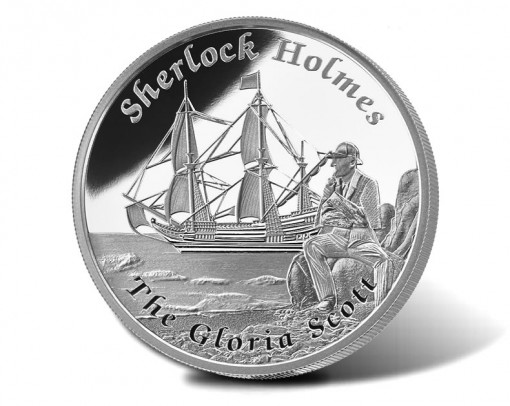 Shown on the proof coin's reverse is a design depicting the Gloria Scott as featured in The Adventure of the Gloria Scott — one of the 56 Sherlock Homes stories written by Sir Arthur Conan Doyle.
Coins of the Famous Ships That Never Sailed series are struck in 99.9% fine silver and have limited mintages of 3,000 each. The coins have or will depict:
Flying Dutchman (issued in 2013)
Pequod (issued in 2013)
Demeter (issued in 2013)
Jolly Roger (issued earlier in 2014)
Gloria Scott (these release)
Nautilus (scheduled to appear later)
Hispaniola (scheduled to appear later)
Ghost (scheduled to appear later)
Gloria Scott Silver Coin Designs and Specifications
In addition to the image of the fictional ship Gloria Scott, the reverse offers a likeness of Sherlock Holmes sitting onshore smoking his pipe. Inscribed around the design elements are THE GLORIA SCOTT and SHERLOCK HOLMES.
Struck as legal tender of the island nation of Tuvalu, the obverse includes Ian Rank-Broadley's portrait of Queen Elizabeth II. Inscriptions read: QUEEN ELIZABETH II, 1 OZ 999 SILVER, TUVALU, 2014 and the face value of 1 DOLLAR.
Specifications are the same as for other program issues, including a composition of one ounce of .999 fine silver, a minimum gross weight of 31.135 grams and a diameter of 40.60 mm.
Ordering
The 2014 Gloria Scott Silver Coin may be ordered directly from the Perth Mint (www.perthmint.com.au) for AUS $ 90.00, or about ~US $83.89. This affiliate link goes to the Perth Mint's website and its page of Famous Ships That Never Sailed coins.
Coins of the series are presented in a wooden case molded in the shape of a book. A numbered certificate of authenticity is also included.