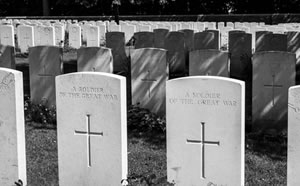 Legislation introduced in the United States Senate seeks coins to commemorate the 100th anniversary of World War I and to honor those who served in WWI, also known as the First World War or the Great War.
Entitled the "World War I American Veterans Centennial Commemorative Coin Act" and numbered S.2714, the legislation calls for up to 350,000 silver dollars in calendar year 2018 to mark the 100 year anniversary of the signing of the armistice with Germany.
Events associated with World War I took place from 1914-1918. Direct U.S. military involvement commenced after April 6, 1917 when the United States declared war on Germany. Over the next two years, over four million men and women would serve in uniform for the United States with two million men serving overseas.
According to the terms of S.2714, which was introduced on July 31, 2014 by Senators Roy Blunt and Claire McCaskill of Missouri, obverse and reverse coin designs would originate from a competition chaired by the U.S. Treasury Secretary and judged by experts that would include 3 members of the CCAC and 3 members of the CFA. Designs must be emblematic of the centennial of the involvement of the United States in World War I.
"Whenever I visit the WWI Museum in Kansas City, Mo., I'm reminded of the tremendous sacrifices that these Americans made to serve our country," said U.S. Senator Roy Blunt about the World War I American Veterans Centennial Commemorative Coin Act. "I hope my Senate colleagues will support this bipartisan legislation to encourage future generations to recognize the unprecedented magnitude of this war and the overall impact it had on our nation."
The Civil War, World War II, the Korean War, and the Vietnam War have all been memorialized on coins from the United States Mint. If issued, these commemorative coins would be the first to acknowledge the involvement of the country in World War I and to honor those who served.
Surcharges on the sale of the commemoratives would be collected and forwarded to the World War I Centennial Commission.
Several other legislative attempts have been made to produce WWI commemorative coins. Most recently, on June 13, 2013, a similar bill was introduced in the House of Representatives by Rep. Doug Lamborn (CO) with Rep. Emanuel Cleaver (MO) cosponsoring. Numbered H.R. 2366, it was referred to the Referred to House Financial Services.
For any legislation to become law, it must pass both chambers of Congress and get signed by the President of the United States.