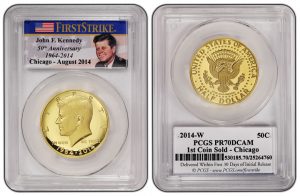 First-day sales of the gold coin celebrating the 50th anniversary of the Kennedy half-dollar reached 56,694 units, or $70.3 million, the United States Mint announced Wednesday morning. The U.S. Mint earlier said that it would have 40,000 coins readied for delivery on opening day.
Featuring a restored 1964 portrait of John F. Kennedy, the 24-karat gold coin launched at noon ET on Tuesday at an issue price of $1,240.
Stories on the web and local news outlets relayed huge lines for those waiting to pick coins up in person. Most talked about, the first four to buy gold Kennedy half-dollars at the national ANA money convention in Chicago were offered $5,000 per coin for a total of $20,000, plus replacements.
In-person purchases are open at four locations across the United States, and are limited to one JFK gold coin per person. Online and call center options — www.usmint.gov/catalog and 1-800-USA-MINT (872-6468) — have a higher limit of five JFK gold coins per household. First-day sales splits across the ordering sites totaled:
2014 ANA World's Fair of Money in Rosemont, Illinois – 493 coins
Retail Shop at U.S. Mint in Philadelphia – 500 coins
Retail Shop at U.S. Mint in Denver – 500 coins
Retail Shop at U.S. Mint Headquarters in Washington, DC – 376 coins
Online/Call Centers – 54,825 coins
For some interesting articles that offer photos/videos of people waiting in line — in some cases for over 12 hours, check out CBS Denver, Philly.com and Numismatic News for the ANA show. Long lines were again reported on Wednesday.
Purchasing from the U.S. Mint website and call center are hassle free following waiting times earlier yesterday, but those placing new orders today will likely have to wait several weeks before their coins are delivered.