The United States Mint hit its first Kennedy half-dollar anniversary product out of the ballpark with first day sales of 68,974 for its clad set, or nearly 32,000 more than the Mint originally produced.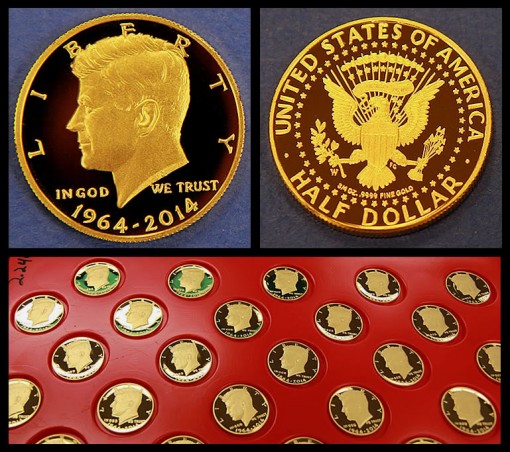 Based on its start and our visit to the U.S. Mint in West Point where we saw more halves, I expect similar home-runs for the upcoming dual-dated 2014-W Proof 50th Anniversary Kennedy Half-Dollar Gold Coin and the four-coin set of 90% silver Kennedy halves.
My brother Darrin and I traveled to New York this week to stop by the West Point Mint. An added bonus to the trip was watching the making of the gold halves and 2014-W Reverse Proof 50th Anniversary Kennedy Silver Half-Dollars. The gold piece in 0.7500 ounces of 99.99 fine gold launches on Aug. 5 and the silver piece debuts within a four-coin silver set this fall. Both coins are dazzling and exceptional collectibles, and that's without considering their original 1964 portrait design that makes them more unique.
I'll focus on the 50-cent gold piece today, and return to talk about the reverse proof on Monday.
In size, Kennedy gold coins look just like typical halves with their 1.205-inch diameter, 2.16 mm thickness and reeded edge. Visually, the similarities from there begin to depart. The luster of the designs and mirrored surfaces, all in gold, scream "buy me." This is one of those coins that if you have the money and see it, you're going to get it. If gold prices stay within $1250.00 to $1299.99, you'll have to say goodbye to $1,240. The U.S. Mint plans to have 40,000 of them ready for launch on Aug. 5, 2014. I can't predict the future, but I wouldn't be surprised to see sales fly above 100,000 by the time all is said and done. Of the seven different 50th Anniversary Kennedy halves, it is the only gold coin and the only one with a dual date. Its price will be the main limiting sales factor.
On Thursday, the U.S. Mint added the coin's product page to its online store, found here. Images found there offer a great take on the designs, but they fail in showing how the coins look in person. We took many photos of the coins and had the same problem, but a few offer a better idea of what to expect with the coin in hand.
I've also embedded a short video that offers a unique look as you can see how the coins appear when the camera pans, hitting different angles. I suggest watching it a few times.
2014-W Proof 50th Anniversary Kennedy Gold Half-Dollars go on sale with household ordering limits of five for web and phone orders and limits of two for retail points at U.S. Mint shops in D.C., Philadelphia and Denver, and at the 2014 Chicago World's Fair of Money in Rosemont, Ill.
To follow are a few more photos of the gold coins as well as a U.S. Mint Certificate of Authenticity that ships with them. Return to CoinNews.net on Monday to see photos of the 2014-W Reverse Proof 50th Anniversary Kennedy Silver Half-Dollar. We'll cover the production of both coins in later articles about our West Point trip.