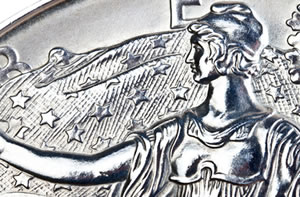 American Silver Eagle rationing has ended, the United States Mint announced today in a memo sent to its network of bullion distributors called "Authorized Purchases."
AP's consist of major coin and precious metals dealers, brokerage companies, and other participating financial intermediaries who buy U.S. Mint bullion coins in bulk and then resell them for a small premium above their melt value.
2014 American Silver Eagle bullion coins debuted on Jan. 13, 2014 under a limited sales system. This allocation policy was implemented, similar to past years, to keep enough inventories in place to supply AP's with some Silver Eagles instead of halting sales entirely. The U.S. Mint now has the production capacity to strike coins to meet demand, but it has not always had sufficient quantities of silver blanks.
Blanks are the metal discs used in making the one ounce, 99.9% pure American Silver Eagle bullion coins. The U.S. Mint does not manufacture blanks for silver coins like it does for nickels, dimes and quarters. They are purchased from a select group of vendors who had also been rationing how many they sell.
The bureau has worked diligently over the last several years to grow its supply of silver blanks. That is one reason for the end of rationing. Another, simply put, is falling demand. Sales of bullion coins have tumbled in recent weeks with precious metals falling out of favor as investors poor their money into riskier assets like equities. Silver futures ended May with a 2.6% loss, and are down 3.6% for the year. The precious metal last traded at $18.68 an ounce compared to its 2013 closing price of $19.37 an ounce.
Here is the text of the memo sent by the U.S. Mint to its AP's:
We are pleased to announce that effective Monday, June 2, 2014, we will no longer be on allocations for the American Eagle Silver Bullion Coin Program. Authorized Purchasers will be allowed to purchase as many American Eagle Silver Bullion Coins as they wish. The United States Mint will continue to monitor its Silver Eagle Bullion Coin demand and adjust its bullion coin production accordingly.
Even with rationing in place, year-to-date American Silver Eagle sales have hit 21,436,500 coins. The pace was at a record level earlier in the week, but swapped to just below sales through the same time in 2013. Last year when the annual Silver Eagle sales record reached above 42.6 million, the bullion coins totaled 21,768,500 by May 30, 2013.