Legend-Morphy Rare Coin Regency Auction VII realized just over $1.6 million, led by a 1943 Bronze cent mint error that rang in $329,000.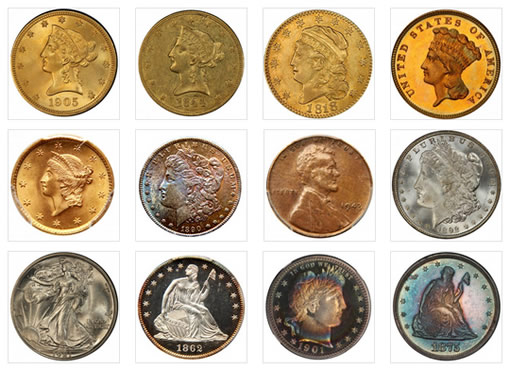 Regency Auction VII, held May 22, 2014 at the Venetian, Palazzo Resort Hotel in Las Vegas, offered 487 lots of rare coins and high-end collections that saw "saw feverish floor, phone, absentee, and Internet bidding," according to Legend-Morphy.
"This auction marks our seventh Regency Auction as the official auctioneer of the PCGS Members Only Show" said Legend-Morphy president Julie Abrams. "The results and reactions from bidders, buyers, and consignors make it clear that we've been able to create the premiere boutique auction company with sales that contain only the freshest, highest quality coins."
Legend-Morphy Rare Coin Regency Auction VII realized realized $1,644,216 with Buyer's Premium. Several rare coin auction highlights include:
Lot 12 – 1C 1943 BRONZE MINT ERROR PCGS AU55 CAC, $329,000.00
Lot 151 – 20C 1875 PCGS PR66 CAM EX COL GREEN/NEWMAN, $18,800.00
Lot 172 – 25C 1901 PCGS PR66+CAM CAC EX NEWMAN, $7,050.00
Lot 190 – 50C 1862 PCGS PR67 CAM, $35,250.00
Lot 207 – 50C 1921 PCGS MS65+ CAC, $28,200.00
Lot 264 – $1 1892-O PCGS MS65+ CAC, $17,625.00
Lot 276 – $1 1878-CC GSA FLAT PACK RAW, $4,406.25
Lot 377 – $1 1890-CC GSA NGC MS64, $11,750.00
Lot 384 – G$1 1853 PCGS MS67 CAC EX SIMPSON, $22,325.00
Lot 399 – $3 1882 PCGS MS67 EX SIMPSON, $94,000.00
Lot 402 – $5 1818 PCGS AU55 CAC HARRY BASS, $30,550.00
Lot 428 – $10 1844 PCGS AU55, $19,975.00
Lot 435 – $10 1905 PCGS MS67 CAC EX SIMPSON/HALL, $58,750.00
All prices realized are posted on the Legend-Morphy website: http://www.legendauctions.com.
"Legend Rare Coin Auctions would like to congratulate the new owner to the famous 1943 Bronze Cent Mint Error PCGS AU55 CAC, which brought $329,000.00, as they now own one of the rarest, most famous U.S. rarities in existence," said Legend-Morphy partner Laura Sperber. "The GSA Morgan Dollar Collection also didn't disappoint. Most pieces went for strong numbers and had numerous aggressive Internet bidders."
Regency Auction VII also marked the last sale under the Legend-Morphy banner. Beginning with Regency Auction VIII, held July 17, the auction house will officially be known as Legend Rare Coin Auctions.
We "would like to thank Morphy Auctions for all their hard work and dedication over the past two years, as we could never have grown such a successful auction house without them," the Legend-Morphy team said. "It's just time for us to move in a new direction."
For information about Legend Rare Coin Auctions visit www.legendauctions.com. Images of the rare coin auction highlights follow.