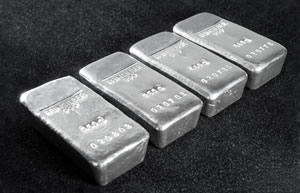 Gold edged only slightly lower Friday but that extended its losing streak to four straight sessions and secured the yellow metal's second weekly decline. Other precious metals joined in on the losses — for the day and week.
On Friday, gold for June delivery slipped a dime to settle at $1,287.60 an ounce on the Comex division of the New York Mercantile Exchange.
"People are not very enthusiastic to enter the market at the moment," Reuters quoted Ronald Leung, chief dealer at Lee Cheong Gold Dealers in Hong Kong. "Right now, the Ukraine situation is supportive of prices but data coming from the U.S. continues to be strong and that could keep investors away and weigh on prices."
Gold prices fell $15.30, or 1.2%, from the week-ago close.
Gold Outlook and YTD Gains
The latest Kitco News survey is more bearish than bullish in expectations for a second consecutive week. Eleven participants forecast weaker prices next week while 6 see them higher and 7 see them sideways to unchanged.
"Those who see weaker prices said the macroeconomic environment for gold offers little upside potential for the yellow metal… Others point to a weak technical chart picture for gold," reports Kitco News. "Those who see price rising next week say that the simmering geopolitical tensions between Russia and Ukraine cannot be counted out."
Gold prices this year have climbed $85.40, or 7.1%, since ending last year at $1,202.30 an ounce.
Silver, Platinum and Palladium Futures
Silver for July delivery shed 2 cents, or less than 0.1%, to settle at $19.12 an ounce. Silver prices tumbled 2.2% from a week ago, pulling prices down on the year by 1.3%
In rounding out the precious metals complex:
July platinum fell $8.20, or 0.6%, to $1,429.90 an ounce, dropping 0.8% on the week.

Palladium for June delivery lost $4.30, or 0.5%, to $799.75 an ounce, falling 1.6% on the week.
For the year so far, platinum has advanced 4.1% and palladium has surged 11.3%.
London Fix Precious Metals
London precious metals fixing were mixed. When comparing the London fix bullion prices from Thursday PM to Friday PM:
Gold added $4.25, or 0.3%, to $1,291.25 an ounce,
Silver was unchanged at $19.25 an ounce,
Platinum lost $6, or 0.4%, to $1,429 an ounce, and
Palladium shed $1, or 0.1%, to $804 an ounce
Weekly results were also varied as palladium declined 1.5% while the other metals logging gains of 0.8% for gold, 0.4% for silver and 0.3% for platinum.
US Mint Bullion Sales
Demand for U.S. Mint bullion products was stronger this week for silver coins and platinum coins but a smidgen weaker for gold coins. In week-over-week comparisons:
Gold coin sales advanced 11,500 ounces after rising 12,500 ounces last week. Splits were 10,500 ounces in American Gold Eagles compared to 7,500 ounces previously and 1,000 ounces in American Gold Buffalos after 5,000 ounces previously.

American Silver Eagles rose 1,151,500 versus last week's 1,086,500. The coins topped the year-to-date mark of 19 million on Tuesday and are now near 19.8 million — a record pace. Last year when the annual Silver Eagle sales record was hit, the coins had reached 19.2 million by May 9, 2013.

America the Beautiful Five Ounce Silver Bullion Coins jumped 18,700, or 93,500 ounces, this week after no gains in the previous week because none were available. The U.S. Mint on April 21 said it temporarily sold out of the five-ounce Great Smoky Mountains coins. Sales resumed on Monday. Additionally, the Mint also started selling five-ounce Shenandoah coins.

In the ninth full week of release after a five-year hiatus, American Platinum Eagles added 600 after gaining 200 previously.
Below is a sales breakdown of U.S. Mint bullion products with columns listing the number of bullion coins sold on Friday, last week, this week, last month, the month so far, and the year-to-date.
American Eagle and Buffalo Bullion Sales (# of coins)
Friday Sales
Sales Last Week
Week To Date
April Sales
May Sales
YTD Sales
$100 American Platinum Eagle Bullion Coins
0
200
600
1,200
600
11,800
$50 American Eagle Gold Bullion Coins
0
3,500
9,500
26,000
9,500
136,000
$25 American Eagle Gold Bullion Coins
0
4,000
0
5,000
0
22,000
$10 American Eagle Gold Bullion Coins
0
0
0
20,000
0
62,000
$5 American Eagle Gold Bullion Coins
0
20,000
10,000
55,000
15,000
305,000
$50 American Buffalo Gold Bullion Coins
0
5,000
1,000
17,500
2,500
85,500
$1 American Eagle Silver Bullion Coins
25,000
1,086,500
1,151,500
4,590,500
1,322,500
19,792,000
Great Smoky Mountains National Park 5 Oz Silver Bullion Coins
0
N/A
3,500
10,600
3,500
26,500
Shenandoah National Park 5 Oz Silver Bullion Coins
0
15,200
N/A
15,200
15,200