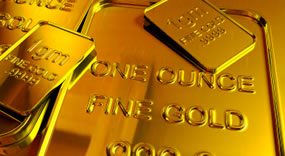 Gold, silver and other precious metals declined Monday as the U.S. dollar rallied and as concerns heightened over Chinese economic growth.
Gold for August delivery declined $14.90, or 1.2%, to close at $1,277.10 an ounce on the Comex in New York. Prices traded between $1,275.10 and $1,300.70. Last week gold futures plunged 6.9%.
"There was nothing new," said Dave Meger, director of metals trading with Vision Financial Markets. "There was an additional sell-off in Asian markets and continuation of the concerns about the Chinese liquidity crunch. With the dollar up dramatically once again and bond yields moving higher, the same factors from the last several days apply once again today."
In other bullion news, Goldman Sachs Inc. trimmed its gold forecasts for this year by 9.4% and for next year by 17.3%. The bank expects gold at $1,300 an ounce at the end of 2013 and at $1,050 an ounce by the close of 2014.
"Medium term, we expect that gold prices will decline further given our U.S. economists' forecast for improving economic activity and a less accommodative monetary policy stance," Damien Courvalin and Jeffrey Currie from Goldman said in a note on Monday.
In other precious metals futures on Monday:
Silver prices for July delivery fell 46.6 cents, or 2.3% to $19.49 an ounce, trading between $19.38 and $20.18.

September platinum lost $40.40, or 3%, to $1,329.10 an ounce, ranging from $1,325 to $1,379.

Palladium for September delivery shed $17.10, or 2.5%, to $657.65 an ounce, trading between $650 and $678.15.
Last week, losses among the precious metals tallied to 9.1% for silver, 5.4% for platinum and 7.8% for palladium.
London Fix Precious Metals
London precious metals fixings also logged across-the-board declines in starting the new week. In contrasting the Friday PM to Monday PM London Fix prices:
Gold lost $8.50, or 0.7%, to $1,286.75 an ounce,
Silver declined 22 cents, or 1.1%, to $19.65 an ounce,
Platinum fell $5, or 0.4%, to $1,360 an ounce, and
Palladium lost $3, or 0.4%, to $669 an ounce
The metals also declined last week by hefty percentages of 6.9% for gold, 8.4% for silver, 7.7% for palladium and 5.7% for platinum.
US Bullion Coin Sales in June
Sales levels for United States Mint bullion coins were unchanged as of 3:28 p.m. ET. Last week sales were exceptionally strong for gold coins and a bit weaker from the previous week for silver coins.
The following are daily, June and year-to-date bullion coin totals as provided by the United States Mint.
American Eagle and Buffalo Bullion Coin Sales
Monday Sales
Last Week
Week-To-Date Sales
June Sales
YTD Sales
$50 American Eagle Gold Bullion Coins
0
19,000
0
36,500
532,000
$25 American Eagle Gold Bullion Coins
0
0
0
0
42,000
$10 American Eagle Gold Bullion Coins
0
4,000
0
4,000
82,000
$5 American Eagle Gold Bullion Coins
0
0
0
45,000
405,000
$50 American Buffalo Gold Bullion Coins
0
3,000
0
10,000
154,500
White Mountain 5 oz. Silver Bullion Coins
0
0
0
1,200
27,000
Perry's Victory 5 oz. Silver Bullion Coins
0
300
0
14,200
14,200
American Silver Eagle Bullion Coins
0
800,000
0
2,428,000
24,196,500
Figures above are in the number of coins sold, not in ounces.