Today, May 8, 2014, the United States Mint started accepting orders for the 2014-W $50 Proof American Buffalo Gold Coin.
This latest annually issued one-ounce coin features a composition of 24 karat gold and is available today for $1,640.00, the lowest starting price since 2010.
Gold Buffalo coins made their debut in 2006. They have been released every year since with designs based on the 1913 Type I Buffalo nickel created by James Earle Fraser.
Coin Designs and Specifications
Found on the obverse or heads side of all American Buffalo Gold Coins is a portrait of a Native American that is said to be a composite based on three different American Indians. Inscriptions include: 'LIBERTY,' '2014,' an 'F' for the artist, and a 'W' mintmark to show that the coin was produced at the U.S. Mint's facility in West Point.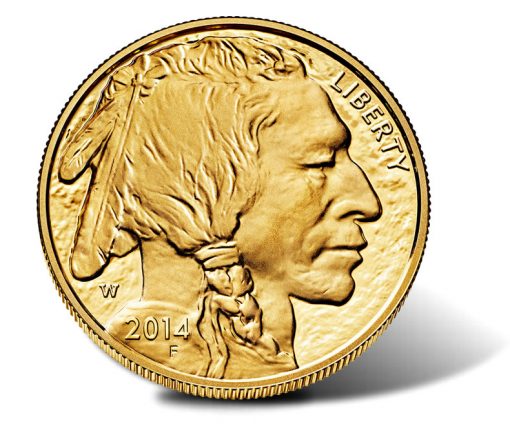 Appearing on reverses is the likeness of an American Buffalo, or bison. Inscriptions above and below the bison read: 'UNITED STATES OF AMERICA,' 'E PLURIBUS UNUM,' 'IN GOD WE TRUST,' the legal tender face value of '$50' and the coin's weight and fineness of '1 OZ. .9999 FINE GOLD.'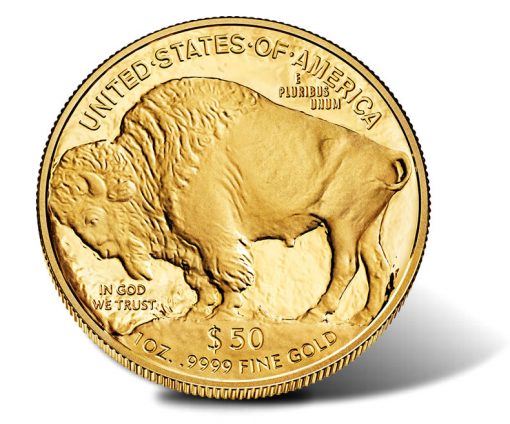 Gold Buffalo coins feature a diameter of 1.287 inches, a thickness of 0.116 inches and a weight of 1.000 troy ounce.
Sales of Past Buffalo Gold Coins
For reference, here is a chart showing initial prices and sales of the coins since the inaugural release:
2006 – 2013-W $50 Proof Gold Buffalo Debut Prices & Final Sales
| Year | Debut Price | Final Sales |
| --- | --- | --- |
| 2013 (released on May 23) | $1,790.00 | 18,594 |
| 2012 (released March 15) | $1,960.00 | 19,715 |
| 2011 (released May 19) | $1,760.00 | 28,683 |
| 2010 (released June 3) | $1,510.00 | 49,263 |
| 2009 (released October 29) | $1,360.00 | 49,306 |
| 2008 (released July 22)* | $1,199.95 | 18,863 |
| 2007 (released May 23) | $825.95 | 58,998 |
| 2006 (released June 22) | $800.00 | 246,267 |
*In addition to the above one ounce gold coins, the United States Mint has also issued other versions in previous years. This includes fractional sized Gold Buffalos in 2008 which had sales of 18,884 one-tenth ounce coins; 13,125 one-quarter ounce coins; and 12,169 one-half ounce coins.
Also, last year saw centennial celebrations for the James Earle Fraser designs. As a commemoration, the U.S. Mint released a special 2013-W $50 Reverse Proof American Buffalo Gold Coin. Demand was strong for the single-year issue with sales reaching 47,836 during the allotted four-week ordering window.
Finally, similar bullion American Buffalo Gold Coins are also produced by the United States Mint each year. Unlike the numismatic versions, however, these bullion coins are intended for investors and are sold by many coin and precious metals dealers for small premiums above their melt values. Sales of the bullion version this year as of Wednesday are 85,500.
Ordering Details, Mintages and Limits
Order the 2014-W $50 Proof American Buffalo Gold Coin directly from the United States Mint via the coin's product page, located here. Orders are also accepted by telephone by calling 1-800-USA-MINT (872-6468).
A consideration before ordering is to remember that the coin's price is subject to change weekly since pricing for numismatic gold coins are tied to an average of London gold fixings. Adjustments to pricing, based on those averages, are typically made on Wednesdays. The coin's current price is based on an average of gold that falls within $1,250 to $1,299.99 an ounce.
As seen in the topmost image, each coin ships inside a U.S. Mint hardwood box with a matte finish and a leather-like inset. A certificate of authenticity is also included.
These coins are produced to meet collector demand with no mintage, household or production limits in place.