Stack's Bowers Galleries realized over $7 million in rare coins, banknotes and other numismatic items in its April 2014 Hong Kong Auction.
A 1949 Kweichow 50 Cent commanded the highest price at $358,500, more than double the pre-auction estimate. A 1949 Kweichow 20 Cent followed, realizing $334,600.
Both coins were NGC-certified, AU-58 and MS-61 respectively.
"There were times when there was standing room only during the auction … vintage and classic Chinese coins realized extremely strong prices," said Richard Ponterio, executive vice president of Stack's Bowers Galleries.
As an example of strengthened prices in classic Chinese rarities, Stack's Bowers Galleries noted that a 1920 Yuan Shih-kai Dollar brought $262,900, which is nearly double what it sold for in the company's December 2010 Hong Kong Auction.
Asian and Chinese banknotes, anchored by The Ernest A. Ikenberry Collection, also saw lively action. A Ming Dynasty 400 Cash note realized $119,500 while a $100 note from the Chartered Bank of India, Australia and China, dated September 1, 1927, brought $44,812.50.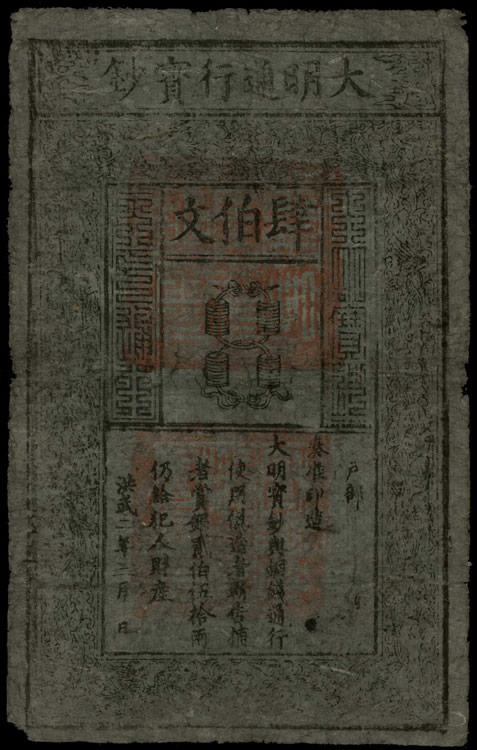 Other listed April 2014 Hong Kong Auction items include:
Lot 30109. JAPAN. Trade Dollar, Year 9 (1876), NGC MS-67. The finest example for the entire type. Realized $32,265.
Lot 30163. KOREA. Open Double Happiness Chatelaine with Attached Ribbons and Charms, ca. 19th Century. From the Craig Collection. Realized $47,800.
Lot 30168. KOREA. 5 Mun Pattern, Year 495 (1886), NGC MS-63 BN. Very rare pattern struck in copper. Realized $26,290 against an estimate of $10,000-15,000.
Lot 30384. CHINA. 1,000 Yuan, 1992. Lunar Series, Year of the Monkey, NGC Proof-69 Ultra Cameo, tied for finest certified of only 99 originally minted. Realized $89,625.
Lot 30489. CHINA. 500 Yuan, 1995. Unicorn Series, PCGS Proof-69 Deep Cameo, one of only 99 minted and the finest graded by PCGS. Realized $65,725.
Lot 30605. SYCEE. Jiangxi Fangbao. Provincial Square Ingot. 50 Tael Local Tax Ingot, Year 28 First Month (February 1902). Realized $26,290 vs. a $10,000-15,000 pre-sale estimate.
Lot 31011. CHINA. Tael, CD (1906) Tientsin Mint, NGC MS-62. Called a restrike struck in silver. Realized a strong $41,825.
Lot 31028. CHINA. Pattern Dollar Reverse Dragon Type I, Year 3 (1911), PCGS Specimen-62. A rare variety of this pattern dollar with the incused veins on the leaves. Realized $125,475 after strong bidding by specialists.
Lot 31151. CHINA. Pattern Dollar, Year 12 (1923) Tientsin Mint. "Pu Yi Wedding Dollar" or "Dragon and Peacock Dollar." PCGS MS-66. This wonderful type coin in superb condition was hotly contested by collectors. Realized $77,675, nearly doubling the high estimate.
Lot 31221. CHINA. Dollar, Year 10 (1921). Pavilion Dollar Presentation Strike in Gold, NGC MS-61. Ex: Ultima Collection. Realized $65,725, well in excess of the $30,000-40,000 estimate range.
Lot 31412. CHINA. Kiangnan. 10 Cash Error, ND (1905). Struck with two obverse dies. PCGS MS-65 BN and Lot 31413. CHINA. Kiangnan. 10 Cash Error, ND (1905). Struck with two reverse dies. PCGS MS-64 BN. Each realized $15,535 against estimates of $4,000-$6,000.
Lot 31484. CHINA. Kweichow. Auto Dollar, Year 17 (1928) graded AU-55 (PCGS). Realized $44,812.50 after spirited bidding, well over three times the high estimate of $12,000.
Lot 31558. CHINA. Szechuan-Tibet. ¼ Rupee, ND (1904-12), PCGS MS-64. Realized $20,315 after fierce bidding competition.
Lot 31646. CHINA. Hupeh. Pattern Cash, ND (1898). PCGS Specimen-62. From the Arthur Cox Collection of Ferracute Machine Company Archival Material. Realized $11,950 against a pre-sale estimate of $2,000-$3,000.
Lot 31656. CHINA. Szechuan. Pattern 7 Mace 2 Candareens (Dollar), ND (1898). Struck in Brass, PCGS Specimen-61. Realized $77,675.
Lot 31690. TAIWAN. Fantasy Tael, ND, NGC MS-63. Realized $6,572.50
Lot 31698. CHINA. Large Brass Table Charm, CD (1834) Extremely Fine. Realized $13,145 against an estimate of $300-500.
Lot 32022. CHINA. Ta Ching Government Bank 100 Dollars, ND (1910) P-A82cts. Color Trial Specimen, PMG AU-55 NET. Realized $11,950.
Lot 32034. CHINA. Bank of China 1 Dollar, 1909 (1912) P-16a. PMG VF-30. Realized 16,132.50.
Lot 32152. CHINA. People's Bank of China 50,000 Yuan, 1950. P-856. PMG Choice Unc-64 NET, and the finest seen by our experts. Realized more than double high estimate at $21,510.
Lot 32201. Bank of Taiwan Limited. 1000 Yen, nd (1945) P-1933a. PMG Choice Unc-64. Realized more than triple high estimate at $17,925.
Lot 32221. Chinese-American Bank of Commerce. $1, $5, & $10, 15.7.1920. P-S232s2, S235s & S236s2. In a presentation book. Notes signed by Eduard Kann as Manager. Realized $15,535.
Lot 32307. D.E. Woodhull Chinese Vignettes Presentation Workbook, hand-dated 22.7.1916. Book of 71 vignettes from the American Banknote Company. Realized $14,340.
Lot 32544. Government of the Straits Settlements 100 Dollars, 24.9.1925. P-13. PMG VF-25 NET. Realized $14,340.
Stack's Bowers Galleries has offered some of the finest collections and holdings of Asian numismatic items to reach the market. For more information, visit the company's website at www.stacksbowers.com.