On Thursday, April 10, the United States Mint began selling circulating-quality Calvin Coolidge Presidential $1 Coins in rolls, bags and boxes. The new dollar honors the 30th President of the United States of America who served from 1923 to 1929.
In keeping with the order of Presidents, this is the 30th release in the Presidential $1 Coin series and the second of this year. Previously released this year was the coin honoring Warren G. Harding. Presidential dollars scheduled for release later this year will honor Herbert Hoover and Franklin D. Roosevelt.
Read about and see line art images of all 2014 $1 designs.
Designs & Specifications of Calvin Coolidge Presidential Dollars
Obverses of the latest Presidential $1 Coin feature a likeness of Calvin Coolidge that was designed and sculpted by Michael Gaudioso. Also on the heads side of the coin are inscriptions reading, "Calvin Coolidge," "30th President," "1923-1929" and "In God We Trust."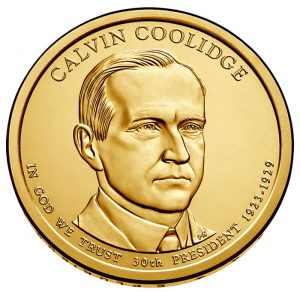 The reverse, or tails side is common to all Presidential dollars and shows Don Everhart's rendition of the Statue of Liberty. The inscriptions that surround the statue read, "United States of America" and "$1."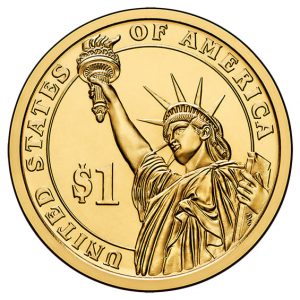 Incused around the edge of the coin are the inscriptions: "2014," "E Pluribus Unum" and "P" or "D" for a mint mark. The mint mark notates the mint of origin, "P" means the coin was produced at the United States Mint facility in Philadelphia and "D" means the coin was struck at the U.S. Mint facility in Denver. Edge incused inscriptions differ in location with every circulation quality coin, unlike proof quality coins where their positioning is the same.
Specifications of dollar coins include a manganese-brass composition of 88.5% copper, 6% zinc, 3.5% manganese and 2% nickel. Each weighs 8.1 grams, has a diameter of 26.49 mm, or 1.043 inches, and a thickness of 2.0 mm.
Calvin Coolidge Presidential $1 Coin in Rolls
Priced at $32.95, rolls contain 25 Calvin Coolidge Dollars. Buyers have their choice of rolls coming from either the Philadelphia or Denver Mint.
Each roll is wrapped in white paper that has black edges. Printed on the wrapping paper is, "Calvin Coolidge," "Presidential $1 Coin," "$25," "United States Mint" and "www.usmint.gov."
Also printed on the wrapping, there is a large "P" or "D" to the right side that denotes the mint of origin. In answering a common question, the rolls are wrapped by an automated machine process so there is no guarantee that both heads and tails side will be visible.
Calvin Coolidge Presidential $1 Coins in 100-Coin Bags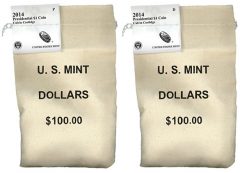 Listed for a price of $111.95, Calvin Coolidge Presidential $1 Coins are also available in bags of 100 coins. The bags are also available from either the Philadelphia or Denver Mint facilities.
These bags are made of canvas and have written on them, "U.S. Mint," "Dollars" and "$100.00." There is a tag sewn onto the top left corner of each bag. The printing on the tag is more specific to the product and reads, "2014," "Presidential $1 Coin," "Calvin Coolidge," "United States Mint" and either "P" or "D" for the city of origin. The U.S. Mint logo is also on the tag.
Boxes of 250 Calvin Coolidge Presidential $1 Coins
Finally, the new dollars are also available in a box of 250 coins. This product is available for $275.95.
Boxes have a sticker saying, "2014 Presidential $1 Coin," "Warren G. Harding," "$250," "United States Mint" and "www.usmint.gov" as well as "P" or "D" for the mint of origin.
In past years, 500-coin boxes were also offered but those have been discontinued due to "declining collector interest," according to the Mint.
Ordering Calvin Coolidge Presidential $1 Coins
Interested collectors have the option to go to the United States Mint's website to place their orders, right here. Those who would rather can place their orders over the phone by calling 1-800-USA-MINT (872-6468).
There are no ordering limits for the Presidential $1 Coins as collector demand will decide the number of coins minted since they are no longer made for circulation.
Short Calvin Coolidge Biography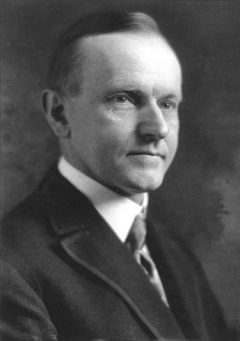 Born in Plymouth, Vermont on July 4, 1872, Calvin Coolidge is the only President to have been born on Independence Day. Coolidge attended Black River Academy and then Amherst College, never attending law school. He took the more common route, for the time, and began as an apprentice at a local law firm. He was admitted to the bar in 1897 and opened his own law practice the next year.
Coolidge's first election to public office came in 1898 when he was elected to the City Counsel of Northampton, Massachusetts. From there he slowly worked his way up the ranks of politics as a republican. After spending some time in the state House of Representatives he returned home to Northampton to run for Mayor. After two years as mayor he then ran for the state Senate. It wasn't long after that, however, that he ran for Lieutenant Governor, which later led to becoming the Governor of Massachusetts.
In 1919, Coolidge was on the Republican Presidential ticket as the Vice President for Warren G. Harding. On the morning of August 3, 1923, while visiting in Vermont, Calvin Coolidge received word that President Harding had died. By the light of a kerosene lamp, his father, who was a notary public, administered the oath of office as Coolidge placed his hand on the family Bible.
After his presidency, Coolidge returned to Northampton. In 1929 he published his autobiography and wrote a syndicated newspaper column from 1930-1931. He died suddenly on January 5, 1933 from coronary thrombosis. Ironically, shortly before he died he told an old friend, "I feel I no longer fit in with these times."