An affordable 0.5 gram pure gold coin is available from the Royal Canadian Mint with the release of the 2014 25c Proof Chipmunk Gold Coin.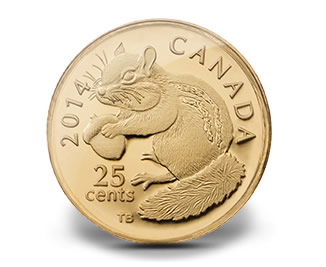 Its limited mintage and price point may have it poised for an eventual sell-out. No more than 10,000 of them will be issued with each currently offered for CAD $79.95, or about US $72.
Shown on the reverse of the new release is an image of a single eastern chipmunk.
"Take a walk in any forest in eastern Canada and you are likely to spot an eastern chipmunk scurrying about in search of food," the Royal Canadian Mint website notes. "The combination of including a cute chipmunk on a small pure gold coin is sure to be popular with coin enthusiasts."
The image of the chipmunk is the work of Canadian artist Tony Bianco. It shows the small rodent in a classic side profile stance. The contrasting stripes along the creatures back can easily be seen along with its most prized treasure in its hands — an acorn. Inscriptions on the reverse include "CANADA," "2014," "25 CENTS" and the artist's initials of "TB."
Susanna Blunt's effigy of Queen Elizabeth II is found on the obverse of the legal tender release. Inscriptions include "ELIZABETH II" and "D G REGINA."
Each 11 millimeter 25-cent coin is struck from 99.99% pure gold. The design features "exceptional engraving details," notes the Mint, and a proof finish. Additional specifications include a weight of 0.5 grams and a serrated edge.
The Royal Canadian Mint ships each encapsulated coin in a maroon display case. A serialized certificate is included with each purchase.
For reference, at the latest London PM fix price for gold of $1,334.75 an ounce, this coin has an approximate melt value of about CAD $23.76, or around US $21.45.
The 2014 25c Proof Chipmunk Gold Coin is available online at mint.ca. Here is an affiliate link to all new Royal Canadian Mint gold coins
.