A new company record of more than $1.28 million was realized by GreatCollections on February 9, 2014, in four hours, with $665,599 of the total coming from the Paterson Collection of U.S. Type coins.
Dr. Spencer Paterson assembled a number of collections in different areas of numismatics for many years. The type set sold by GreatCollections was mostly acquired over the past decade. It attracted record bidding and exceeded pre-auction estimates. The sale of one scarce coin, the 1796 No Stars Quarter Eagle graded XF-45 by PCGS, drew the biggest attention.
"The coin market is strong, as evidenced by the spirited bidding and final prices realized," said Ian Russell, President and founder of GreatCollections. "The star of the auction was the No Stars 1796 Quarter Eagle, which received 83 bids and finally sold for $112,200.
It is estimated that only 100 or so of the 1796 No Stars Quarter Eagle coins exist today out of the 963 that were minted. In 2009 at a public auction, the last example in the same grade sold for $77,625. The one in the Paterson Collection was valued in the PCGS Price Guide at $110,000.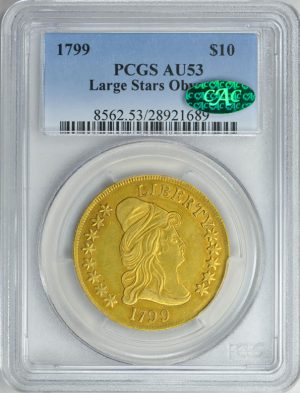 Another important piece included the 1799 Capped Bust Gold Eagle Large Stars Obverse, graded AU-53 by PCGS with CAC approval, and it sold for $25,025 after 62 bids were placed. Its final price also exceeded the PCGS Price Guide value, in this case by over 10%.
One more highlight of the sale was the 1836 Gobrecht Dollar, graded PR-62+ by PCGS, receiving 48 bids and selling for $32,450.
"As the major consignor to this record-setting auction, Dr. Paterson was attracted by our personal service and extensive marketing plan," Russell stated. "He opted for our company because we can focus on coins worth $5,000, $10,000 or $25,000, where at some auction houses they would be lost in a phonebook-sized catalog."
To view highlights or find out more information about the full prices realized, visit www.greatcollections.com or telephone 1-800-44-COINS.