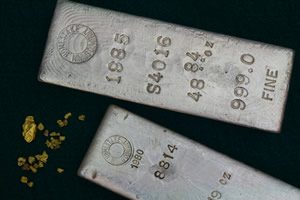 Gold and silver advanced their winning streaks to two sessions. Platinum and palladium climbed for a third session in a row. Each notched a second straight week of gains.
Gold for February delivery on Friday rose $13.40, or 1.1%, to settle at $1,238.60 an ounce on the Comex division of the New York Mercantile Exchange. It scored a weekly increase of 2%. Improved physical demand, equities' weakness, and bargain-hunting have been bullish supporting factors since trading resumed after the New Year's holiday.
"Positive bullion prices in reaction to the decline in equities may set the tone for 2014 and reinforce the negative correlation between the two," Reuters quoted James Steel, chief precious metals analyst at HSBC.
In 2013, gold plunged 28.3, the most since 1981 and the first annual decline since 2000.
"While bargain hunting and short-covering may have been the initial catalyst for the pop off support [levels], we are now seeing more conviction buying premised on the third failure to sustain losses below $1,200," MarketWatch quoted Peter Grant, chief market analyst at precious-metals dealer USAGOLD.

"A theme among clients I've spoken to this week has been skepticism about the sustainability of the stock market rally," he said. "They're taking money off the table in equities and using it to bolster their gold holdings."
Gold Outlook
For a second consecutive week, most participants in Kitco News' weekly gold survey expect gold prices to move higher.
"In the Kitco News Gold Survey, out of 34 participants, 17 responded this week. This was less than normal, with many still away from their desks for an extended New Year's holiday. Ten see prices up, while six see prices down and one is neutral," reports Kitco.

"Those who see higher prices said gold acted well after testing last year's lows in the $1,180 area and rebounding… Others said gold's early 2014 rally may be a harbinger of things to come… However, those who see weaker prices said they see this rally in gold faltering as it runs into resistance…"
Silver, Platinum and Palladium Futures
Silver followed gold but it trailed by a few paces. Silver for March delivery turned up 8 cents, or 0.4%, to $20.21 an ounce after surging 3.9% on Thursday. Last year, silver was the worst performing precious metal, tumbling 35.9%. It gained some footing this week, rising 0.8%.
In PGM futures on Friday:
April platinum added $9.60, or 0.7%, to finish at $1,414.20 an ounce.

Palladium for March delivery edged up 95 cents, or 0.1%, to close at $731.20 an ounce.
As for the week, platinum advanced 2.6% and palladium surged 2.7%. The two metals split last year with platinum off 10.9% and palladium up 2.1%.
London Fix Precious Metals
London precious metals fixings also advanced on the day and for the week. When comparing the London fix prices from Thursday PM to Friday PM:
Gold rose $9.50, or 0.8%, to $1,234.50 an ounce,
Silver jumped 69 cents, or 3.5%, to $20.18 an ounce,
Platinum gained $16, or 1.2%, to $1,404 an ounce, and
Palladium added $5, or 0.7%, to $728 an ounce
Their weekly percentage increases amounted to 1.6% for gold, 1.3% for silver, 2.2% for platinum and 2.4% for palladium.
US Mint Bullion Sales in December
There are no United States Mint bullion sales to report this week, but there were orders. The U.S. Mint on Thursday began selling its 2014 American Eagle gold coins and 2014 American Buffalo gold coins. However, the bureau is yet to publish their starting sales, which are expected to be robust. Here is a snapshot of how U.S. Mint bullion coins performed last week, in December and in 2013.
American Eagle and Buffalo Bullion Sales (# of coins)
Last Week
December Sales
2013 Sales
$50 American Eagle Gold Bullion Coins
17,000
53,500
743,500
$25 American Eagle Gold Bullion Coins
0
0
58,000
$10 American Eagle Gold Bullion Coins
0
4,000
122,000
$5 American Eagle Gold Bullion Coins
0
15,000
535,000
$50 American Buffalo Gold Bullion Coins
0
7,000
239,000
White Mountain 5 oz. Silver Bullion Coins
Sold Out*
4,300
35,000
Perry's Victory 5 oz. Silver Bullion Coins
30,000
Great Basin 5 oz. Silver Bullion Coins
30,000
Fort McHenry 5 oz. Silver Bullion Coins
30,000
Mount Rushmore 5 oz. Silver Bullion Coins
35,000
American Eagle Silver Bullion Coins
1,200,000
42,675,000
The first 2014-dated silver bullion coins, the American Silver Eagles, will not be available until Jan. 13, 2014.