For the first time this year, the United States Mint launched a Presidential $1 Coin & First Spouse Medal Set. It honors William McKinley, the 25th President of the United States, and his wife, Ida McKinley. Sales began Tuesday, November 19, 2013 at noon Eastern Time.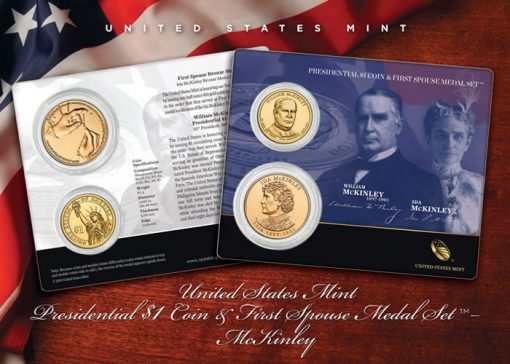 This set features two collector pieces, an uncirculated William McKinley $1 Coin bearing the former president's portrait and an Ida McKinley bronze medal with the same designs as her First Spouse Gold Coins. The $1 coin and bronze medal are mounted on a decorative card with portraits of the President and First Lady, along with their signatures.
Normally, Presidential $1 Coin & First Spouse Medal Sets are released earlier in the year but the series of 2013 First Spouse Gold Coins was delayed due to production issues, and that pushed back release dates for the sets. There was also a delay last year with the first set not debuting until October.
William McKinley Presidential $1 Coins launched on Feb. 19, 2013. That is the date that the United States Mint started selling rolls, bags and boxes of the dollars. Prices for these products range from $32.95 to $550.95.
Proof and uncirculated Ida McKinley First Spouse Gold Coins did not debut until last week, on Nov. 14, 2013. These coins are struck in one-half ounce of 24-karat gold. The proof gold coin is presently $840 while the uncirculated gold coin is $820. Their prices can change weekly depending on the gold market.
In the past, the U.S. Mint had offered First Spouse medals by themselves. The bureau ended the individual medal option in 2011, making Presidential $1 Coin & First Spouse Medal Sets a main source to acquire bronze medals of former first ladies. There is also the annual First Spouse Bronze Medal Set with this year's issue priced at $16.95 and scheduled for a December release.
Orders for the William McKinley Presidential $1 Coin & Ida McKinley Medal Set may be placed through the U.S. Mint website, found on this page, or by calling at 1-800-USA-MINT (872-6468).
Pricing is $9.95 per set. There is no mintage or household ordering limits in place.