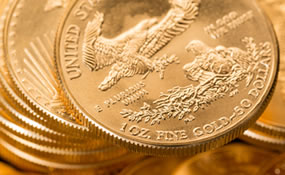 Gold moved up sharply and closed near a five-week high Tuesday, extending its winning streak to two straight days with advances in four of the last five sessions.
Gold for December delivery rallied $26.80, or 2%, to settle at $1,342.60 an ounce on the Comex division of the New York Mercantile Exchange. The precious metal traded through a range of $1,309.50 to $1,344.70. The settlement price was the highest since Sept. 19.
Gains came after news of a weaker-than-anticipated U.S. jobs report which sparked speculation that the Federal Reserve will keep its monetary stimulus as is in the months ahead.
"The payrolls data is pushing gold higher as investors think the economy needs more support to gain momentum," Frank McGhee, the head dealer at Integrated Brokerage Services LLC in Chicago, said in a telephone interview relayed on Bloomberg News.
U.S. payrolls rose 148,000 in September, down from the 193,000 jobs added in August, the Labor Department reported Tuesday. Expectations had been closer to the 180,000 level.
"We were not even close to the 180,000 number… the main takeaway is that Fed tapering is still a long way away, probably not for this year and that's the reason why everything shot up – equities, commodities and gold in particular," Societe Generale analyst Robin Bhar was quoted on Reuters.
For a second day, silver was the biggest percentage winner among precious metals. Silver for December delivery jumped 51.2 cents, or 2.3%, to $22.79 an ounce, trading between $21.99 and $22.83.
While gold and silver have turned up for two days in a row, PGMs have notched daily gains going back a week. In their latest increases:
January platinum rose $12.10, or 0.8%, to $1,450.70 an ounce, ranging from $1,426 to $1,452.80.

Advancing for the eighth time in nine sessions, palladium for December climbed $2.65, or 0.4%, to $752.90 an ounce. It traded between $742.60 and $754.35.
London Fix Precious Metals
Earlier fixed London precious metals split, with most slightly lower. In contrasting the Monday PM to Tuesday PM London fixings:
Gold added $15.50, or 1.2%, to $1,333 an ounce,
Silver dipped 3 cents, or 1%, to $22.06 an ounce,
Platinum declined $6, or 0.4%, to $1,432 an ounce, and
Palladium slipped $2, or 0.3%, to $744 an ounce
U.S. Mint Bullion Sales in October
United States Mint gold bullion sales grew sharply Tuesday with advances across all four American Gold Eagle sizes. U.S. Mint distributors ordered 9,500 ounces on top of the 3,000 ounces from Monday. The two-day total of 12,500 ounces is higher than sales through all of August and is 500 ounces shy of matching sales from September.
American Gold Buffalo and American Silver Eagle coins also moved up. Their breakdowns and that of the American Gold Eagles are below.
American Eagle and Buffalo Bullion Sales (# of coins)
Tuesday Sales
Last Week
Week-To-Date Sales
October Sales
YTD Sales
$50 American Eagle Gold Bullion Coins
6,000
12,000
9,000
31,000
636,000
$25 American Eagle Gold Bullion Coins
2,000
0
2,000
3,000
56,000
$10 American Eagle Gold Bullion Coins
8,000
0
8,000
10,000
114,000
$5 American Eagle Gold Bullion Coins
5,000
10,000
5,000
25,000
490,000
$50 American Buffalo Gold Bullion Coins
500
6,500
2,000
14,500
214,500
White Mountain 5 oz. Silver Bullion Coins
Sold Out
35,000
Perry's Victory 5 oz. Silver Bullion Coins
0
0
0
1,200
26,200
Great Basin 5 oz. Silver Bullion Coins
0
0
0
2,200
27,200
Fort McHenry 5 oz. Silver Bullion Coins
0
0
0
2,600
27,600
American Silver Eagle Bullion Coins
237,000
800,000
653,500
2,340,500
38,428,500