A unique Brazilian gold ingot scored nearly $200,000 at a Heritage Auctions event held Sept. 25 – Oct. 1 in Long Beach, California.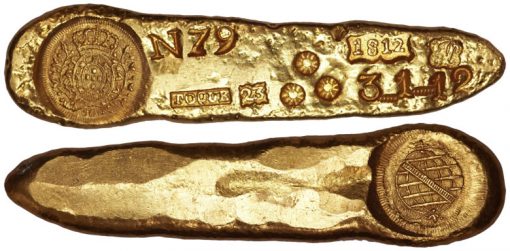 It was just one of the rarities that went under the hammer as a part of the second offering of the RLM Collection of Brazilian Gold during Heritage Auctions' World and Ancient Coins Signature® Auction.
This auction segment realized over $10.6 million of the more than $36 million dollar week at Long Beach with Heritage's U.S. Coins Signature® Auction contributing over $17.5 million and more than $7.6 million coming from its U.S. Currency Signature® Auction. The $36+ million total is the highest the combined Long Beach events have ever realized, according to Heritage.
"Heritage's growth in the World and Ancient Coin market has a bright future. Long Beach Expo has always been a highlight of our hobby, but this year's results far surpassed our expectations," said Cristiano Bierrenbach, Executive Vice President of International Numismatics.
A rarity of Brazilian numismatics, the large 1812 Joao VI Prince Regent gold ingot with its original issue certificate led the World and Ancient Coins auction with $199,750, including the 17.5% buyer's fee. Its appearance as Part II of the RLM Collection of Brazilian Gold, brought together by Roberto Monteiro, included important ingots and Portuguese colonial era Brazilian coinage.
In addition to coins, gold ingots and bars circulated as legal tender for a time in colonial Brazil. As seen in the topmost photo, marks were placed on ingots to identify foundry, year, sequential production number, the assayer's monogram, the fineness of the gold and the weight. An accompanied certificate, called a "Guia," enabled them to trade as coinage.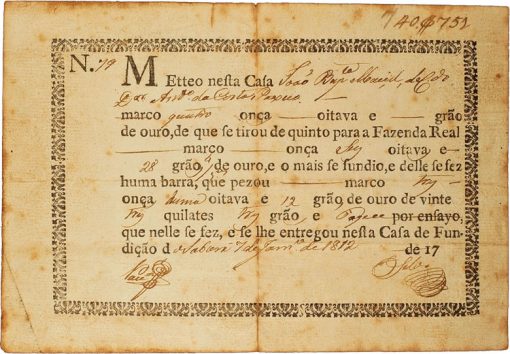 Eventually, most of the bars and ingots were melted and the certificates lost or destroyed. Today, the total number of authentic ingots known to exist is 219 from 9 foundries. This 1812 Joao VI gold ingot, weighing in at 90.2 grams, is one of 85 known from the Sabara foundry.
Other highlights from World and Ancient Coins Signature® Auction, as described in a Heritage news release, include:
A famed Burgers Pond, a South African rarity from 1874. From a mintage of just 142, the coin is considered one of the finest examples known to exist and it quickly surpassed its estimate to realize $152,750.

A Titus 'Colosseum' sestertius (struck under the Roman emperor Titus (AD 79-81) to commemorate the opening of the Colosseum) more than doubled its high estimate to sell for $146,875. The rare coin, which depicts the Colosseum on the obverse, was the first example of the type ever sold by Heritage and became the third-most expensive such coin to sell at public auction.

A Danzig ducat from 1547, one of a small handful of examples to be offered at public auction in decades, sold for $135,125 against a $40,000 estimate.

A dramatic Chinese Empire gold pattern Kuping Tael from 1906, a rare pattern type featuring a facing dragon on the obverse, brought $114,562

A South African threepence "tickey" struck in gold, a mysterious coin that was made in 1898 by ZAR entrepreneur Sammy Marks, changed hands for $79,637.

A dazzling 1866 Proof Victoria dollar from Hong Kong sold for $70,500

A gold double-daric, struck under Alexander the Great's Babylonian satrap Mazaeus. The extremely rare example is one of four known of this type and now carries the honor as the most expensive one to ever sell at auction.

An extremely rare stater from Pnytagoras, king of Salamis on Cyprus. The example shows two different versions of the goddess Aphrodite on the obverse and reverse. It sold for $41,125, more than three times more than when it changed hands in 2006.

A unique issue from the Mexican mint at Hermosillo, an 1835 Republic Cap and Ray 8 Reales, fetched $47,000.
In summarizing the auctions and peering ahead, Bierrenbach added:
"We remain grateful to our consigners and buyers and look forward to offering many special collections in the next year."
To see other realized prices from the World and Ancient Coins Signature® Auction, check out http://coins.ha.com/common/auction/catalog.php?SaleNo=3026.
Heritage Auctions is the largest auction house founded in the United States and the worlds third largest, with annual sales of more than $800 million, and 800,000 online bidder members.