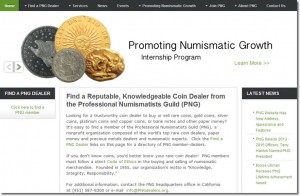 Visitors to the website of the Professional Numismatists Guild will find a new address in their browser and a redesigned look.
The PNG announced the changes in a news release published earlier today, August 27, noting that anyone using its old address will automatically get redirected to the new one at www.PNGdealers.org.
"We decided that because we're an organization, we should change our URL from .com to .org when we updated the look of the website," said PNG Executive Director Robert Brueggeman.
Among enhancements to the home page include:
A prominent link to find PNG dealers in the United States and seven other countries.
A rotating banner with important news and information, including access to the upcoming PNG internship program, "Promoting Numismatic Growth."
A section of links to the latest news.
Current spot prices for silver, gold and platinum.
There are also menu changes to the website, like the "Services" menu with a "Brochures" option that takes visitors to a page with free PNG educational pamphlets entitled, "Things To Know Before You Buy Rare Coins" and "The Pleasure of Numismatics."
The website enhancements were a goal of Jeffrey Bernberg during his recent term as PNG President, according to the new release. Coordinating the redesign were PNG Board members Mitchell Battino and Dana Samuelson and newly-installed President Terry Hanlon.
About the Professional Numismatists Guild
The PNG is a nonprofit organization composed of many of the top rare coin and paper money dealers in the United States and seven other countries. PNG member-dealers must adhere to a strict Code of Ethics in the buying and selling of numismatic merchandise.