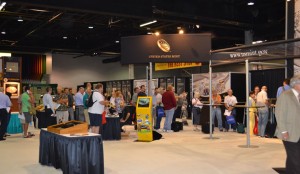 If you've seen the 2013 Reverse Proof American Gold Buffalo up close and you can scrape together the cash, it's hard not to buy one.
I was fortunate to see several trays of them in early June while touring the West Point Mint for its 75th anniversary. The experience cost me $1,640 because I had to take the plunge and get one. Well, to be fair, it cost my wife $1,640 as she couldn't resist making me happy and placed the order. And since she used "her" money, I guess I should buy another or get a regular proof version with "my" money… Right?
Anyway, I'm not alone in wanting one after seeing it. The reverse proof Buffalo has been a hit at the ANA's World's Fair of Money in Chicago. The United States Mint brought 1,000 of them to the convention and people waited in line for two hours to take one home. All 1,000 sold out on the first day.
More Gold Buffalos are being shipped from West Point and will be on hand Friday for show attendees, though there will be a limit of 5 coins per person. There are no limits when ordering from the Mint's online store here, but you'll have to wait to get them.
It's kind of surprising to see how many have already sold.
Daily Sales of 2013 Reverse Proof Gold Buffalo
Daily Sales
Total Sales
Thursday
Released
Friday
21,009
21,009
Weekend
Monday
3,874
24,883
Tuesday
2,022
26,905
Wednesday
2,548
29,453
Thursday
1,029
30,482
Who would have thought that the Mint would take in more than $50 million in sales in just one week? Not me.
It does look like yesterday's price increase might have cooled sales today. The Gold Buffalo went up $50 to $1,690 in response to surging gold prices.
The latest price is based on an average of the precious metal that falls within $1,300 to $1,349.99 an ounce. If gold prices continue to stay where they are or surge higher — gold is sitting at $1,366.70 an ounce now, the cost of the coin will move up by at least $50 on Wednesday, August 21.
Sales of the 2013 Reverse Proof American Gold Buffalo end on September 5, or 21 days from now. If you haven't already ordered one, try to convince your spouse to do it. It'll really make your day. Good luck.