United States Mint bullion sales through the first half of 2013 were exceptional for gold coins and unprecedented for silver coins. Not a lot changed in July. Strong to screaming gains continued.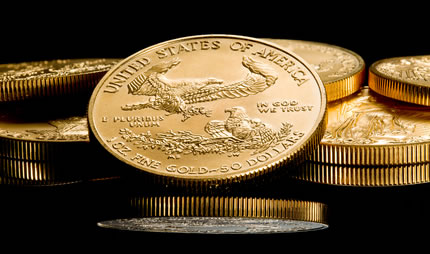 Demand for American bullion coins tends to weaken in summer months, and particularly in July. To be sure, seasonal dampening was noticed among American Gold Eagles. But any hint of slackening for American Silver Eagles was tossed out the window early in the month.
2013 American Eagle Silver Bullion Coins
July sales of American Eagle silver coins exploded to 4,406,500, notching the best July ever, the second highest month in 2013 and the fifth best month in the 320 that have passed since the series start in October 1986.
In other monthly comparisons, the level marked a 34.5% increase over June's 3,275,000 ounces and was 93.4% stronger than the same time last year when sales tallied to 2,278,000 ounces.
For the January through July period, American Silver Eagles stand at 29,450,000. The pace is the quickest ever, hands down, with 2013 poised for a new annual record. The 99.9% pure silver coins scored their current annual sales record of 39,868,500 in 2011. Then, it took until September 9, 2011 for sales to reach where they are now. Last year, 29.45 million was not hit until November 5, 2012.
This year's sales sprint is all the more impressive as the numbers do not fully reflect the level of demand. The U.S. Mint's inventory of Silver Eagles was exhausted in mid-January with sales suspended for more than a week as a result. They resumed by the end of the month but under a system of rationing that limited how many coins distributors could order. That system is still in place.
2013 American Eagle Gold Bullion Coins
American Eagle gold coins advanced 50,500 ounces in July, off 11.4% from June's pace of 57,000 ounces. The monthly total is the weakest since August 2012, though it handily tops sales from a year ago by 65.6%.
U.S. Mint distributors ordered all American Gold Eagle sizes. These include one ounce, one-half ounce, one-quarter ounce and one-tenth ounce sizes that correspond to denominations of $50, $25, $10 and $5.
Year-to-date sales totaling 679,500 ounces reflects exceptional demand for the 22-karat gold coins. Just five other years have better seven-month totals since the series debuted in 1986. They include:
1987 at 765,000 ounces,
1988 at 687,000 ounces,
1999 at 1,408,500 ounces,
2009 at 756,500 ounces, and
2010 at 825,000 ounces
American Buffalo Gold Bullion Coins
July sales of 24-karat American Buffalo gold coins jumped 18,500 ounces, rising 8.8% from the prior month and zipping 362.5% higher than a year ago.
For the January through July period, Gold Buffalo orders reached 180,000 ounces. The seven-month pace is unmatched in the 8-year old series. In a stark comparison, sales through all twelve months of 2012 were weaker at 132,000 ounces.
2013 America the Beautiful Five Ounce Silver Bullion Coins
America the Beautiful silver bullion sales accumulated to 17,000 coins last month, down a solid 32.8% from the June total of 25,300 coins. June's bigger bump was supported with the introduction of this year's second and third ATB coins. July did not have the same help.
The sales breakdown for 2013 ATB Five Ounce Silver Bullion Coins by design are:
2013 White Mountain America the Beautiful Silver Bullion Coins advanced 2,900 in July for a new total of 29,900.
2013 Perry's Victory America the Beautiful Silver Bullion Coins gained 6,600 in the month, lifting its total to 20,800.
2013 Great Basin America the Beautiful Silver Bullion Coins gained the most in July, up 7,500 for a new total of 17,400
Year-to-date, the 99.9% pure silver coins are at 131,200 coins or 656,000 ounces. Sales through the same time last year tapped in at just 25,500 coins for 127,500 ounces. Like the Gold Buffalo, the seven-month ATB bullion coin total already surpasses the 2012 tally of 118,100 coins.
Upcoming five ounce releases for the year include the designs honoring Fort McHenry National Monument and Historic Shrine in Maryland (August) and Mount Rushmore National Memorial Site in South Dakota (November).
Sales Across All U.S. Mint Bullion Products
Below is a breakdown of U.S. Mint bullion coin sales by product type, month and year-to-date. All totals are in the number of bullion coins sold, not in the amount of ounces.
Monthly and YTD Sales US Mint Bullion Coins
(# of coins)
Jan 2013
Feb 2013
Mar 2013
Apr 2013
May 2013
Jun 2013
Jul 2013
YTD Sales
American Eagle Gold (1 oz)
124,500
68,000
54,000
187,500
61,500
49,000
43,000
587,500
American Eagle Gold (1/2 oz)
17,000
5,000
4,000
14,000
2,000
1,000
4,000
47,000
American Eagle Gold (1/4 oz)
24,000
12,000
10,000
26,000
6,000
8,000
8,000
94,000
American Eagle Gold (1/10 oz)
110,000
70,000
35,000
85,000
60,000
55,000
35,000
450,000
American Buffalo Gold (1 oz)
72,500
11,500
11,000
37,000
12,500
17,000
18,500
180,000
ATB Silver Coins (5 oz)
28,960
14,340
19,800
0
25,800
25,300
17,000
131,200
American Silver Eagle (1 oz)
7.498M
3.3685M
3.3565M
4.087M
3.4585M
3.275M
4.4065M
29.45M
Sales above are aggregated from data published by the U.S. Mint on its website found here.