Available from the Royal Canadian Mint are 50c 300th Anniversary of Louisbourg 1/25 Oz Pure Gold Coins and $20 300th Anniversary of Louisbourg Fine Silver Coins.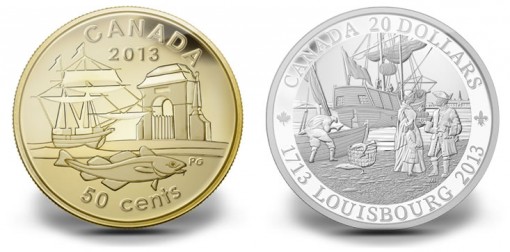 These two new collector-grade strikes commemorate the founding of one of the first European settlements in what is now present-day Canada. Each coin showcases a different reverse design emblematic of the concepts of trade and commerce that led to the exploration and development of Canada centuries ago.
"Generations after its founding, the historical treasure of Louisbourg is now preserved on two new collector coins which remind Canadians and collectors from around the world of the significance of this historical landmark which survives as a living monument to early Canadian history," said Ian E. Bennett, President and CEO of the Royal Canadian Mint.
The two designs were unveiled by Kirk MacRae, member of the Royal Canadian Mint's Board of Directors, at the Fortress of Louisbourg National Historic Site. Shown on the reverse of the gold coin is a design by Nova Scotia artist Peter Gough with British Columbia maritime artist John Horton responsible for the silver coin's reverse image.
Louisbourg was founded by French colonists in 1713. The natural port would serve as one of the largest military garrisons in New France as well as an economic hub for the region. British forces captured Louisbourg in 1758 leading to its eventual abandonment. Today the location is preserved as a National Historical Site.
The design on the reverse of the gold coin highlights the important connection of Louisbourg and the sea. Peter Gough's image includes the Frédéric Gate, a cod fish and a sailing ship. CANADA, 2013 and 50 CENTS are inscribed on the design.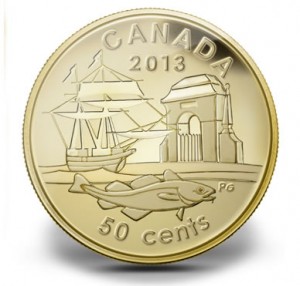 Shown on the reverse of the silver coin is John Horton's commemoration the 300th anniversary of the settlement of Louisbourg. The design includes settlers on the shore of Louisbourg with a sailing ship shown behind them. Reverse inscriptions include CANADA, 20 DOLLARS and 1713 LOUISBURG 2013.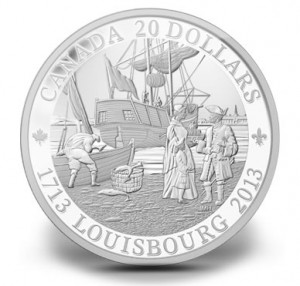 The obverse of both offer Susanna Blunt's effigy of Queen Elizabeth II. Obverse inscriptions include ELIZABETH II and D G REGINA.
Specifications of 2013 300th Anniversary of Louisbourg Coins
| | | |
| --- | --- | --- |
| | Louisbourg Gold Coin | Louisbourg Silver Coin |
| Mintage | 10,000 | 8,500 |
| Composition | 99.99% Pure Gold | 99.99% Pure Silver |
| Finish | Proof | Proof |
| Weight | 1.27 Grams | 31.6 Grams |
| Diameter | 13.92 mm | 40 mm |
| Edge | Serrated | Serrated |
| Face Value | 50 Cents | 20 Dollars |
Both coins are encapsulated and presented in a Royal Canadian Mint-branded maroon clamshell case.
Pricing of the 300th Anniversary of Louisbourg 1/25 Oz Pure Gold Coin is CAD $129.95 with the 300th Anniversary of Louisbourg Fine Silver Coin offered for CAD $89.95.
To order, call 1-800-267-1871 in Canada, 1-800-268-6468 in the US, or place an order on the Internet at www.mint.ca.