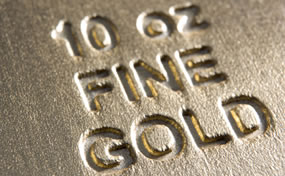 Gold settled slightly lower Tuesday, falling for the first time in four sessions after hitting an almost five-week high.
Gold for August delivery dipped $1.30, or 0.1%, to end at $1,334.70 an ounce on the Comex division of the New York Mercantile Exchange. Trading action occurred between $1,325.60 and $1,337.80 an ounce. A pressuring point was news from the Indian government that it was adding new import limits on gold. India is the world's biggest gold-buying nation.
"The restrictions on Indian imports is a further blow to physical demand," Marc Ground, a commodity strategist at Standard Bank Plc in Johannesburg, said in a telephone interview relayed on Bloomberg News.
Analysts at Commerzbank offered a cautionary note related to exits in gold through exchange-traded funds.
"Given the ongoing ETF outflows, we believe it is still too early to describe this (latest rise in gold prices) as a lasting trend reversal," they said.
Gold futures on Monday soared $43.10, or 3.3%, to close at their highest price since June 19 and log their biggest gain since June 29, 2012.
In other metals, silver for September delivery declined 25.5 cents, or 1.2%, to close at $20.25, trading between $20.08 and $20.60. Prices soared in the previous session by $1.05, or 5.4%.
"Silver's not under performing gold too badly from the low of end-June," said Adrian Ash, head of research at BullionVault in London, with spot prices for silver currently up roughly 11.5% and gold up 12.7%.

"The rise in the gold/silver ratio — now at 3-year highs above 65 ounces silver for each 1 ounce of gold confirms silver's price in-elasticity as an industrial input… Plus the fact that, at current margins above cash costs, primary gold mining output looks more vulnerable than silver's mostly secondary supply."
In PGM futures on Tuesday:
Snapping a three-session winning streak, October platinum lost $4.90, or 0.3%, to $1,443.10 an ounce. Platinum ranged from $1,423.20 to $1,454.

Palladium declined after having gained in ten of the last eleven sessions. Palladium for September dropped $11, or, 1.5%, to $739.45 an ounce, trading between $731.20 and $747.50.
London Fix Precious Metals
London precious metals split with gold and silver higher and PGMs lower. In contrasting the Monday PM to Tuesday PM London fixings:
Gold gained $6.50, or 0.5%, to $1,333.50 an ounce,
Silver added 23 cents, or 1.2%, to $20.18 an ounce,
Platinum declined $18, or 1.2%, to $1,424 an ounce, and
Palladium fell $16, or 2.1%, to $734 an ounce
US Bullion Coin Sales in July
Sales totals for United States Mint bullion products were unchanged Tuesday after both gold and silver coins advanced on Monday. American Silver Eagles had notably notched one of their biggest sales days of the year. The following table offers daily, July and year-to-date bullion coin totals as published by the U.S. Mint on its website.
American Eagle and Buffalo Bullion Coin Sales
Tuesday Sales
Last Week
Week-To-Date Sales
July Sales
YTD Sales
$50 American Eagle Gold Bullion Coins
0
6,500
4,000
30,500
575,000
$25 American Eagle Gold Bullion Coins
0
0
0
4,000
47,000
$10 American Eagle Gold Bullion Coins
0
2,000
0
6,000
92,000
$5 American Eagle Gold Bullion Coins
0
10,000
0
25,000
440,000
$50 American Buffalo Gold Bullion Coins
0
2,000
0
13,500
175,000
White Mountain 5 oz. Silver Bullion Coins
0
1,100
0
2,900
29,900
Perry's Victory 5 oz. Silver Bullion Coins
0
2,400
800
6,600
20,800
Great Basin 5 oz. Silver Bullion Coins
0
1,200
0
7,500
17,400
American Silver Eagle Bullion Coins
0
875,000
925,000
3,456,500
28,500,000
Figures above are in the number of coins sold, not in ounces.