National Baseball Hall of Fame Commemorative Coins will launch next year in $5 gold, $1 silver, and half-dollar clad versions.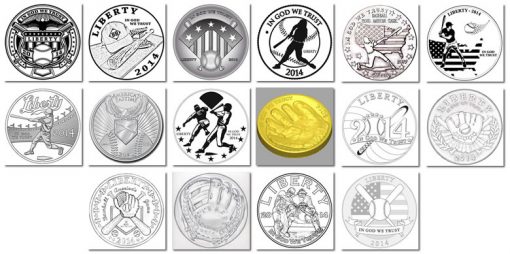 These 2014-dated coins issued in commemoration of the 75th anniversary of the National Baseball Hall of Fame will feature reverse designs of a baseball, struck to a convex shape to resemble the ball's curvature.
Then there is the common obverse (heads side) design. As part of the process leading up to the release, multiple design candidates have been created with 16 finalists now officially confirmed. The road getting to the design finalists had a few curves itself.
To start with, the authorizing coin legislation called for a public design competition. Accordingly, the U.S. Mint Baseball Coin Design Competition was created with submissions received from April 11, 2013 through May 11, 2013. This event marked the first time a public coin design competition was held by the U.S. Mint since 1992.
Excitement for the competition seemed high and a total of 178 entries were submitted. From these entries, 21 semi-finalist designs were chosen based on multiple rounds of judging against the criteria of artistic merit, coinability, technical and historical accuracy and theme relevance. But then there was a bit of a hiccup. The U.S. Mint found that one of its judges failed to follow protocol.
"The Mint discovered a discrepancy that occurred when an internal judge did not follow the established criteria," said Tom Jurkowsky, U.S. Mint director of public affairs. "To protect the integrity of the competition and to be fair to all contestants, the Mint dropped that judge's scores."
With those scores removed, five more designs were added to the semi-finalist list for a new total of 26. From those, 16 were selected as finalists. These will be presented to the U.S. Commission of Fine Arts (CFA), the Citizens Coinage Advisory Committee (CCAC), and the National Baseball Hall of Fame and Museum for review and comments. Their opinions will be taken into consideration by the Acting Director of the United States Mint who will make a final recommendation. The actual design selection is the responsibility of the Secretary of the Treasury and will be announced in September.
As mentioned, 2014 National Baseball Hall of Fame Commemorative Coins will be issued in three different varieties. This includes 50,000 $5 gold coins, 400,000 $1 silver coins and 400,000 half-dollar clad coins. Surcharges will be collected on the sale of these coins with proceeds forwarded to the National Baseball Hall of Fame to help finance its operations.
Obverse Baseball Coin Designs
Images of 16 finalist designs are presented below:
| | |
| --- | --- |
| Third time Diamond Jubliee | The proud American classic |
| The love of the game | The Big Three |
| SluggerCoin | Liberty is a Grand Slam |
| Hall of Fame Coin | Essence of a Nation's Pastime |
| Dad's Baseball Glove | Celebrating 75th Anniversary |
| Batter Up Baseball Coin Design | bat & glove |
| America's Pastime | America's Favorite Pastime |
| America's Favorite Pastime | A Hand Full of Gold |
For more information about the competition, visit batterup.challenge.gov.