Details have emerged for the 2013 5-Star Generals Profile Collection. Earlier today the United States Mint published an online product page for the limited-edition set.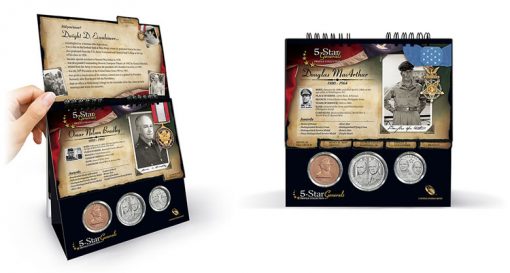 Priced at $74.95, scheduled with a release date of August 5, 2013 and limited to 50,000 units, the collection includes:
2013-W Uncirculated 5-Star Generals Silver Dollar depicting Generals George C. Marshall and Dwight D. Eisenhower

2013-D Uncirculated 5-Star Generals Half Dollar featuring portraits of Generals Henry "Hap" Arnold and Omar N. Bradley

1.5-inch bronze replica of the 1962 General MacArthur Congressional Gold Medal
The $1 silver coin and 50-cent piece are available separately from the U.S. Mint at respective prices of $55.95 and $20.95, which totals $76.90. That makes the 2013 5-Star Generals Profile Collection a bargain by comparison since it also has the bronze medal and special packaging.
Packaging is described by the U.S. Mint as "easel-type" that is "perfect for desktop display." Inside are profile cards with photos, historic military information and facts for each of the generals. The packaging also includes the United States Mint Certificate of Authenticity.
Collectors can order the 2013 5-Star Generals Profile Collection at Noon ET on the 5th. The online product page for the set is located here.
2013 5-Star Generals Profile Collection Specifications
| | | | |
| --- | --- | --- | --- |
| | Silver Dollar Coin | Half Dollar Coin | Bronze Medal |
| Denomination | $1 | $0.50 | N/A |
| Composition | 90% Silver, 10% Copper | 8.33% Nickel, Balance Copper | 90% Copper, 10% Zinc |
| Weight | 26.730 grams nominal | 11.340 grams (±0.454) | Not Listed |
| Diameter | 1.500 inches (±0.003) or 38.10 mm (±0.08) | 1.205 inches (±0.002) or 30.61 mm (±0.05) | 1.5 inches |
| Edge | Reeded | Reeded | Flat |
| Mint Mark | Uncirculated 'W' | Uncirculated 'D' | None, struck at Philadelphia Mint |
Bronze Medal Designs
The obverse or heads side design on the bronze medal depicts General MacArthur with surrounding inscriptions reading DOUGLAS MACARTHUR, LIBERATOR OF THE PHILIPPINES, CONQUEROR OF JAPAN, DEFENDER OF KOREA and PROTECTOR OF AUSTRALIA.
Reverses show the Great Seal of the United States and two torches on either side with inscriptions in the middle reading IN RECOGNITION OF THE GALLANT SERVICE RENDERED BY GENERAL OF THE ARMY DOUGLAS MACARTHUR TO HIS COUNTRY. Additional inscriptions include DUTY, HONOR and COUNTRY as well as MacArthur's quote, "The inescapable price of liberty is an ability to preserve it from destruction."
Both sides were designed by Frank Gasparro.
For design and other information about the 2013 5-Star Generals Commemorative Coins in clad, silver and gold, read this coin news article.